Scotland women beaten by Brazil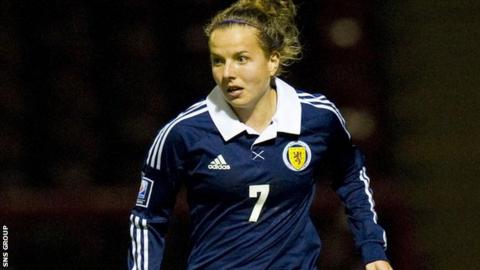 Hayley Lauder scored a stunning goal as Scotland lost 3-1 to the host nation in the four-team Brazil Women's International tournament.
Five-time Fifa World Player of the Year Marta inspired Brazil, scoring the opener, while Debhina netted twice.
Lauder curled in a fantastic consolation strike on 75 minutes.
"Brazil are a very good side, but to be honest we are a bit disappointed because all of the goals were avoidable," said coach Anna Signeul.
Talking to the Scottish FA website, she added: "The third one in particular, which came at a bad time straight after the break, was really just a ball over the top. If you make any kind of error against a side like this, with players of Marta's quality, you will be punished.
"We defended well in the first half but I think we got a bit tired in the hot conditions and started to give the ball away.
"It's always difficult when you lose a goal directly after half-time but after that we really found our stride. We had far more possession - Lisa Evans and Kim Little were excellent - and that led to our goal. It was a really fantastic strike from Hayley."
Scotland opened with a 2-0 defeat to Canada and will end the tournament against Chile.