Carlisle United managing director admits club has gone over budget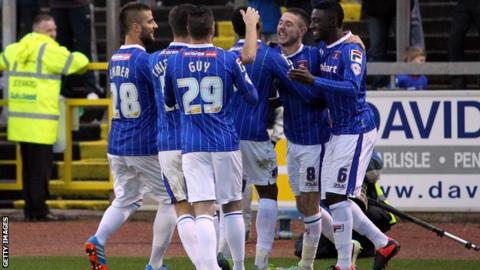 Carlisle managing director John Nixon says recent transfer activity has taken the League One club over their budget.
Eight players have arrived since Graham Kavanagh became manager in September, despite Carlisle losing £666,257 in the last financial year.
Loanee Nathan Eccleston has left, but Josh Gillies's temporary switch to Cambridge remains the only other exit.
"Graham knows he's gone over budget and players must leave in January. We are helping to build his team," said Nixon.
In late October, Carlisle's independent auditors Ryecroft Glenton warned the club that its current financial situation threatened its "ability to operate as a going concern".
This was based on the fact that at the end of the last financial year, "the company's net current liabilities exceeded its current assets by £712,054".
Earlier this month, the Cumbrians did confirm that defender in January, leaving the club 27 players with squad numbers.
But since then, they have given former Manchester City defender Courtney Meppen-Walter, who was on a one-month deal,
League One rivals last year after breaching the salary cap by which clubs in the division must abide.
Financial Fair Play rules state the clubs must limit their wage and transfer fee bill to 65% of their turnover.
In the last financial year, Carlisle's wage bill - including non-football staff - was £2.5m, 71% of its £3.5m turnover.
"We've got that many players on the books I've had to go on to a second sheet," Nixon joked to BBC Radio Cumbria.
"Of course, we'll do what we can to move players on that aren't playing and try to get the squad back to a manageable size."
In January, the League One side to face Sunderland in the FA Cup, a tie Nixon admits will not provide the financial windfall one might think.
"It's great that the prices have been set so low, but the problem is we won't make that much money from the game now," he explained.