Champions League: Barcelona's dreaded draw with Man City
By Andy West
European football writer
Last updated on .From the section European Football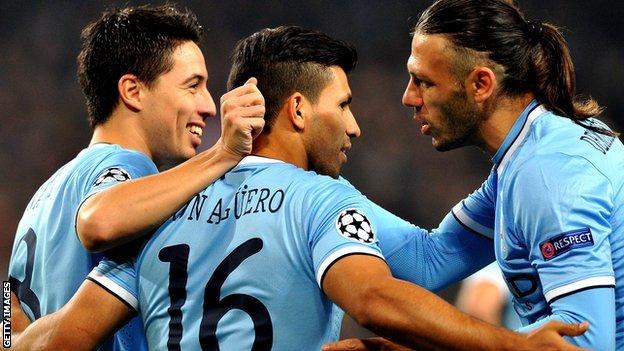 It doesn't require much of a grasp of the Spanish language to understand the message emblazoned across the front page of Monday's Mundo Deportivo, a popular Barcelona-based and Barca-biased daily sports newspaper.
The paper, which generally manages to capture the mood of the club's legion of fans, was desperate to avoid being paired with "Manuel Pellegrini's unstoppable" Manchester City in the draw for the last 16 of the Champions League.
Sadly for the Nou Camp club, however, Uefa's balls didn't oblige and a fascinating tie lies in wait between two teams widely regarded as leading contenders for the biggest prize in European football.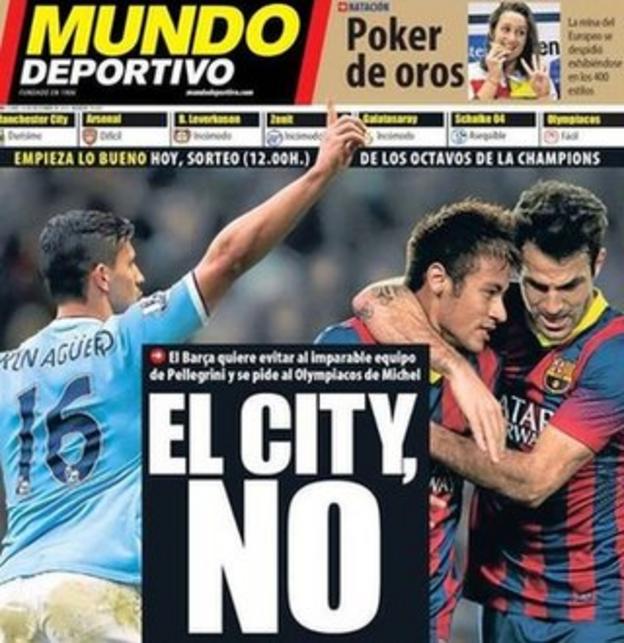 The nervousness about Monday's draw illustrates a revealing change in Barcelona's mentality. A couple of years ago, they would have feared nobody - the reaction to being drawn against City, Arsenal or any other club in Europe would have been one of somewhat patronising pity towards the inevitably soon-to-be-conquered opposition.
Now, though, that unquestioning confidence has evaporated and Barca's fans will approach February's tie with respect bordering on fear.
The catalyst for the change in attitude was the Catalan club's disastrous 7-0 aggregate thrashing at the hands of Bayern Munich in last season's semi-final.
That crushing defeat, unlike previous European exits against Chelsea (in 2012) and Inter Milan (in 2010), provoked a prolonged and still ongoing process of soul-searching which has permeated to the core of the club's long-held and cherished values.
New manager Gerardo Martino is still wrestling with the problem of exactly how much he needs to change the prevailing 'tiki-taka' ideology in order to compete with a new breed of teams - most clearly embodied by Bayern but also including Manchester City - who are able to combine technical excellence with powerful athleticism.
In the last few years, since the appointment of Pep Guardiola (and to an extent under his predecessor Frank Rijkaard), Barca have proudly protected their philosophy that small can be beautiful, with under-sized players such as Xavi, Andres Iniesta and Lionel Messi able to overcome more physically imposing opponents by marrying hard work with guile and craft.
The humiliation against Bayern, however, led many observers to conclude that Barca are in need of a new injection of physicality to avoid being outmuscled by Europe's new elite. Notably, Martino has explained away his team's glaring defensive weakness against set-pieces (which will be sorely tested by the likes of Yaya Toure and Alvaro Negredo) by shrugging: "We don't have many tall players."
Carry on as before or change and adapt? It's a question that Barca are still attempting to answer, and the meeting with City will be their first major test on the European stage since those fateful losses against Bayern. It could well prove to be the tie that defines whether Martino is regarded a success at the Nou Camp.
Another fascinating sub-plot to the tie is the opportunity for City to pit their wits against the club which has enormously influenced their development in recent years as they attempt to transform themselves from unintentionally comedic underachievers to a major European superpower.
When Garry Cook resigned as chief executive in September 2011, City embarked upon a long and ultimately successful pursuit of Ferran Soriano, who had previously been on the board at Barcelona, to become their new senior executive.
One of Soriano's first moves was to recruit the former technical director at the Nou Camp, Txiki Begiristain, to work alongside Brian Marwood in charge of the club's football operations.
City have also largely based the ongoing evolution of their Academy on Barca's famed youth development system, while the design of a new training complex, currently under construction, was influenced by the Catalan club's 'Sport City' centre.
And the 'Hispanification' of Manchester City continued apace last summer, with the double-signing of Spain internationals Alvaro Negredo and Jesus Navas following hot on the heels of the arrival of new manager Manuel Pellegrini, a man who has always been admired at the Nou Camp and could well have been appointed by Barca to succeed Tito Vilanova if he hadn't already taken over at the Etihad Stadium.
All told, the Spanish - and primarily Barcelona - influence at Manchester City is undeniably strong, with staff members even encouraged to take Spanish lessons in order to further facilitate the integration of their club's new working methods.
And now, after more than two years of assiduously following and adapting 'the Barcelona way', City have a chance to further establish their growing credentials as a major force in the game by toppling the originals.
Last year, the Champions League last 16 draw produced another heavyweight Anglo-Spanish tie: Manchester United against Real Madrid.
That fabulous encounter was fiercely contested between two evenly matched teams, eventually settled by just one goal in Real's favour after United were controversially reduced to 10 men. This time around, there is every indication the latest Premier League v Primera Division battle will be just as close.
El City? Si.