The footballers still out of contract at Christmas
Last updated on .From the section Football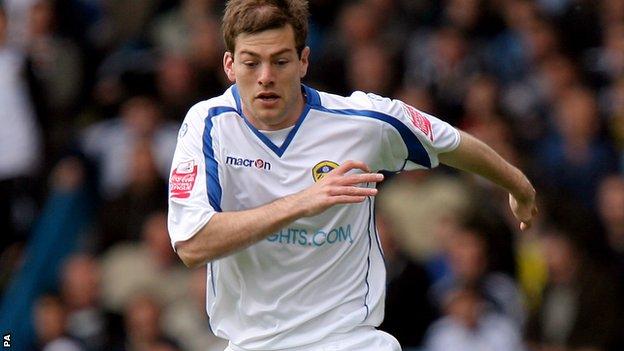 Nobody wants to be out of work at Christmas, a time when money seems to fly out of wallets.
Even those who have been part of the seemingly glamorous world of football are not immune to the pain of unemployment when the holidays come around.
Every summer, hundreds of professional footballers are made redundant by clubs, leaving many with no idea where to go and what to do next.
Some still have not seen another pay cheque come 25 December, when the football season is getting as hot as the turkey.
Last year, Ben Parker found himself in that position, having been released by boyhood club Leeds in April 2012, where he made over 50 first-team appearances.
"The funny thing is that when you're playing over Christmas you just wish you had some free time, but last year all I wanted to do was play football," the 26-year-old defender told BBC Sport.
"I found it quite hard, but I enjoyed being able to do a few things that I wouldn't ordinarily be able to like having a drink on Christmas Day."
At the time of his release, Parker had played over 100 professional games and been capped at under-19 level by England, but even with that background, he struggled to find a side to take a chance on him.
Christmas, however, seemed to have come early when Bury agreed to give him a chance - but fate had other ideas.
"I joined in December [2012] after I'd been training with them for about six weeks. I knew with their financial situation that they wouldn't be able to offer me much money.
"I eventually signed on non-contract terms on a Thursday and was looking forward to maybe being involved that weekend, but when I came in for training on Friday, [manager] Kevin Blackwell pulled me to one side and said they'd been given a transfer embargo so the deal couldn't go through.
"I just had to laugh because it was just how things were going for me."
Although six-figure-per-week contracts are becoming more common in the Premier League, life in the lower reaches of the Football League is very different.
"People just think that because you're a footballer, you've got money," said Parker. "You do earn good money for what you do but it isn't how people think it is.
"I was lucky because my agent helped me to save while I was at Leeds so I had that to fall back on.
"Most players don't have that, and if they end up out of the game it can get bad. I've seen people who've got in trouble with gambling or drinking when they've found themselves out of work."
To try to avoid the pitfalls that unemployment can bring, some players have no choice but to pursue careers outside the game they have been involved in since they were young.
In May, winger Danny Stevens was told he was no longer needed after making more than 200 appearances over six years for Torquay.
And after unsuccessful trials at Leyton Orient and Aldershot, he has decided to qualify as a personal trainer in case he could not get back into the game.
However, Stevens believes his situation could have been very different if his reputation had not taken a hit because of the poor season Torquay had in 2012-13, when they only just avoided relegation from League Two.
"The previous years we made the play-offs twice on the trot, so if it had been those years I'd have been released, maybe I'd have done better [at finding a contract]," he told BBC Sport.
And after spending the entirety of his professional career in the lower leagues, money - or the lack of it - means his options may be limited.
"If it was a higher league, you would go anywhere to play because your wages will back that," he added.
"But when you're in the lower leagues and travelling, and you've got to think of your rent, it's not that easy."
After 18 months out of the game - which even included a trial at Sarpsborg in Norway where former Sheffield United forward Brian Deane is manager - Parker finally managed to get back into football with non-league Guiseley.
However, he remains frustrated that clubs further up the football pyramid would not take a chance on him.
"If you look at clubs in the Championship now they'd sooner get a young player from the Premier League and not have to worry about his wages than offer an older player a short-term deal," he said.
While Parker has found his feet back in football, albeit on a part-time basis, Stevens faces the prospect of being unemployed over Christmas.
And the all-consuming desire to find a way back into the game he loves means that festive cheer may be in short supply.
"I don't think it matters if it's Christmas or the middle of June," he said. "I haven't got a club and I think about it every day."
Additional reporting by Phil Maiden and Ian Woodcock.