AFC Telford United: Winger Sean Cooke transfer-listed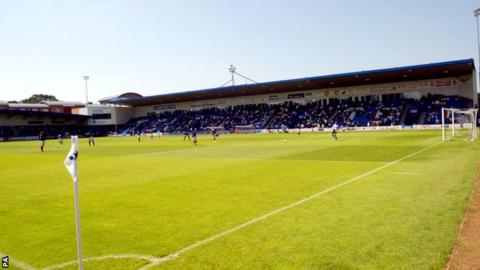 AFC Telford United have transfer-listed winger Sean Cooke for openly showing dissent to the Bucks management.
Bucks boss Liam Watson has told the summer signing from Fylde, 21, that the "best thing is that he goes somewhere he's happy".
"He's answering back to the staff from the side of the pitch," Watson told BBC Radio Shropshire.
"No-one's going to start swearing at me. That's simply not happening. And he's already been warned once."
Watson added: "It's all about the team ethic with me. I just want everyone here playing for the team and for the club.
"I'd have someone giving me 100 per cent all day long, rather than someone who can give me more quality but isn't going to do it.
"Sean probably feels that he hasn't had enough playing time but where do I play him?"
Fifth-placed Telford, who stand just four points off top spot in the Conference North ahead of Saturday's visit of third-placed Brackley, have a potential replacement lined up in Chester's Ashley Williams.
But, despite making an inquiry, Watson has been rebuffed as injury-hit Chester still need him as cover.