Young, gifted and English: Are we suspicious of 'creative' players?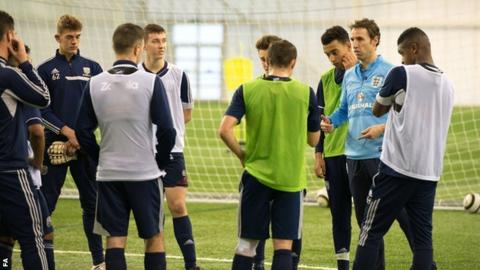 When England under-21 coach Gareth Southgate took a session at the Football Association's annual coaches conference earlier this month, he posed a question to the group of 18-year-olds he was about to instruct.
"How many of you think you are a creative player?"
"Four out of the 20 players reluctantly put their hands up," Southgate tells BBC Sport afterwards. "And yet we were able to show before the end of the session that they had all done creative things and all had fantastic individual ability."
The anecdote is perhaps indicative of English football's uneasy past relationship with skilful and creative players.
Where other countries might have encouraged a player to dribble out from defence, in England a player would be urged to "clear their lines". Taking on a player would be left to the wingers with a preference for getting the ball forward quickly.
Players such as former Southampton forward Matt Le Tissier were given short shrift. No matter that he had a wonderful first touch and scored some breathtaking goals, his work-rate was often cited as to why he did not receive more than eight England caps during the 1990s.
There are many other examples including former Tottenham and England midfielder Glenn Hoddle, who was under-appreciated a decade previously.
As the former head of Everton's academy Neil Dewsnip says: "Maybe we've had these players, but maybe we as coaches and managers haven't been brave enough to allow these people to express themselves as much as we hope to in the future."
Dewsnip was at Everton for 20 years and helped develop Wayne Rooney and Ross Barkley, but has now been recruited by FA director of elite development Dan Ashworth as the governing body attempts to tackle the issue head on.
More than 1,000 coaches gathered recently at the National Football Centre - St George's Park - for the FA's Licensed Coaches Club Conference with 'developing creativity' the central theme.
And while it comes after the number of English under-21 players in the Premier League reached a new low last season, it has also coincided with a crop of exciting English youngsters making their mark on the top flight.
This season, Liverpool striker Daniel Sturridge, Everton's Ross Barkley, Tottenham winger Andros Townsend and West Ham's Ravel Morrison have all shown technical ability, where there were serious concerns after the England Under-21s crashed out of last summer's European Championship.
Yet there is still scepticism. Townsend's profligacy for Spurs early in the season was highlighted in some sections of the media until he scored a cracker in England's crucial World Cup qualifying win over Montenegro.
Former England goalkeeper David James also said he found Morrison "frustrating" in recent England Under-21 qualifiers for doing too many stepovers and even the forward's coach Southgate talked about the right balance between being skilful and effective.
So is there still a suspicion about creative players?
Like Southgate, Dewsnip - who is now the FA's technical lead for the 17-21 age group - believes doubts about creativity are often cultural.
"It's interesting what people perceive creativity to be," Dewsnip tells BBC Sport from St George's Park. "You could put Wayne Rooney in that bracket, Steven Gerrard too. And David Beckham could be considered creative, in the way he scores his free-kicks and so on.
"We are a very work-ethic orientated culture. I was born and bred in Liverpool and you know that mentality where if you work hard then everything will be OK, possibly we take that into football and other sports.
"Maybe we can improve on the creative things that go with that and maybe other nations have done that better than we have over the years."
Southgate cites the use of futsal and kids growing up in inner cities practising in playground cages as two examples of how English youngsters are perhaps becoming more skilful with the ball at their feet.
Then there is the introduction of the £320m Elite Player Performance Plan, which is almost doubling the number of coaches and the amount of coaching time in Premier League and Football League academies.
But striking the right balance between creativity and effectiveness is still proving a tricky problem to solve.
"We have some players I'm working with at the minute that have been very exciting to see in training and we have to continue to do that against better opposition and the tougher challenges that lie ahead," says Southgate, who has overseen an unbeaten start to the England under-21s Euro 2015 qualification campaign.
"At 18 or 19 no player is the finished article so we have to give them the chance to try things and to discover what works and what doesn't. But usually when you sit down with a player and watch a video of the game, they will be fairly honest with you about where they have made a good decision and where they might have done something differently."
Southgate adds: "We're trying to give them that freedom in the team structure."
Part of Dewsnip's role will be to work with academy coaches to implement this creative evolution while also working towards an English "DNA".
And in appointing the former Everton coach and others from the professional game, former West Brom sporting director Ashworth has taken a key step to ensure the FA retains a measure of influence in youth development.
Ashworth says that English football's attitude towards skilful and creative players is "improving" and he is confident young English players will get better.
"Over the next several years I think we will see an improvement in the standard of young players coming through," he tells BBC Sport. "I'm really, really, optimistic that, working with the two leagues and with the clubs, we will start to see a difference."
Of course, much of this will depend on how often Premier League and Football League club managers use English youngsters.
But if coaches help develop confident players, perhaps this could even help the senior England team where former England manager Fabio Capello said the weight of the shirt could sometimes cripple his team.
Current boss Roy Hodgson has already shown he is willing to adopt the theme by picking Townsend for vital games and has since included Barkley and the likes of Southampton forward Adam Lallana, who has won praise for a string of clever displays for his club this season.
"Developing fearless players comes from the coaches, the players themselves and maybe even the crowd," Dewsnip concludes. "The supporters at Goodison Park would always be forgiving to Rooney in the early days, to Leon Osman and Barkley now. They see them as being really talented and would allow them to make the odd mistake without getting on their backs.
"It's the whole environment. If people realise that the players need time and encouragement and allow them to play with no fear, then maybe we will get more of them at the highest levels."