Tony Kleanthous: Barnet 'can grow' with London Broncos
Last updated on .From the section Barnet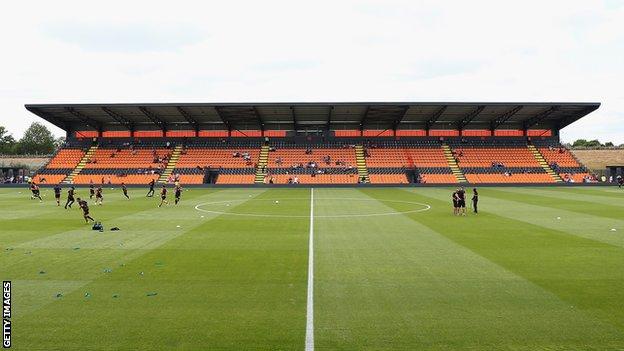 Barnet chairman Tony Kleanthous says they could form a long-term partnership with rugby league club London Broncos.
"If we find out that we get on well and things are good then we can grow together," he told BBC London 94.9.
"We have got a lot of ideas for the future. What we are trying to do is probably have a bit of courtship before the marriage."
The deal with Barnet saved the Broncos from the threat of administration and secured a new home after their eight-year stay at Twickenham Stoop, the home of rugby union club Harlequins.
London's rugby league side have had numerous homes, including Craven Cottage, The Valley and Griffin Park, since their inception in 1980.
Kleanthous has been negotiating with the Broncos and their owner David Hughes over a possible groundshare since the summer. Broncos chief executive Gus Mackay says the deal has given the club "the best structure to move forward".
"There were times I thought there wouldn't be a London Broncos and I felt that would be a shame," Kleanthous said.
"A lot of time, money and effort has gone into that club and it would be wrong to tear it up.
"I have the utmost respect for David Hughes and what he has done there, but what they have not done is set down any roots. They need to do that and I felt that is where we could help.
"I am pleased we have played a small part in keeping them ticking a little bit longer. Let's hope we will be able to be the final solution for them."
Capacity at The Hive is 5,176 and Kleanthous says the Broncos could be involved if the Bees find a site for a larger permanent home.
"Let's be clear - my ambition for Barnet Football Club has always been to build a 10,000 [seater] stadium," he said.
"That is the correct size for them [the Broncos] as well. We will see how we get along and how the sports co-exist alongside each other."
Kleanthous also said the possibility of him taking ownership of the Broncos had arisen during negotiations - but that eventuality was far off.
"We have talked about all those kind of things," he said. "I am not ready at the moment.
"I have a labour of love with Barnet that for some mad, unexplainable reason that I can't seem to be able to get away from. I have to see Barnet do better before I can start thinking about involving myself in other things in that way.
"It has given a new lease of life to London Broncos. I want to see them do really well just as I want to see my football club do well."