Vincent Tan: Malky Mackay gamble raises stakes for Cardiff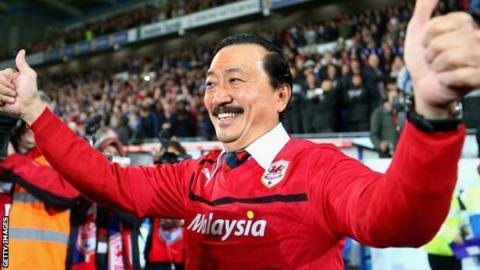 Cardiff fans chant "We'll always be blue" to remind owner Vincent Tan that he can change the club's kit, but not their minds.
Back in Tan's native Malaysia, his 30,000 employees have a different tune.
To mark his 60th birthday in February 2012, a choreographed chorus line of staff sang a medley of reworked western hits in his honour.
After the shameless adaptation of numbers by Frankie Valli and Andy Williams, the next most striking aspect is the number of different uniforms and logos, representing the breadth of Tan's business interests.
Whether it is doughnuts, gyms, phones or lottery tickets, he is the man behind many of Malaysia's biggest brands.
The Berjaya Group which he founded and that pulls them all together generates revenue in excess of £5bn.
That sort of wealth ensures entry to a world of private jets and private popstar performances; a very different one from the one he was born into.
Delicate family finances meant leaving school and entering the workforce as a bank clerk at 16.
The insurance he sold in the evenings turned into a full-time job, but he only truly became a major figure in Malaysian business when he gambled that the Far East was ready for western fast food.
He secured the McDonalds restaurant franchise in 1980 and followed its success with other American brands such as coffee chain Starbucks and 7-Eleven convenience shops.
His close relationship with prime minister Mahathir Mohamad and the government's failure to hold an open tender raised questions when the state lottery was privatised into his hands in 1985.
But, with lottery revenue providing the backbone of Berjaya Group's finances, Tan stayed ahead of the curve with timely investments in mobile phone companies and social networking websites.
He even retired ahead of the curve, catching many by surprise when he left the running of Berjaya to his son in February 2012.
He said he made the decision to devote his time to philanthropy, publically pledging to give away half his wealth.
His involvement in Cardiff cannot be counted as part of the charity drive. As yet anyway.
Tan's investment in the club since he joined the board in May 2010 is thought to be around £140m and, while he wrote off £5.8m interest due to him in October, he could, in theory, demand his money back.
In the meantime though it enabled manager Malky Mackay to break the Cardiff's transfer record three times last summer, signing Andreas Cornelius,Stephen Caulker and Gary Medel to prepare the club for its first top-flight campaign in 53 years.
Off the pitch Tan has promised to donate £1m to local causes every season the club is in the Premier League.
Like many recently retired men embarking on a project however, Tan has not been content with a hands-off approach.
He has changed the club crest from a bluebird to a dragon, the playing shirts from blue to red, replaced an experienced head of recruitment with a novice and reportedly attempted to advise Mackay on tactics mid-match.
The response has been far from the unquestioning adulation he receives from his employees in Asia.
Gratitude has given way to insubordination among fans with protests against Tan, seen even during November's historic win over Swansea, intensifying after Monday's "jump-or-be-pushed ultimatum" to Mackay.
According to newspaper reports the activism has not been limited to the stands, with players asking for Tan to be be barred from the dressing room in a dispute over bonus payments earlier this year.
Tan is as unfamiliar to dissent as he is to failure.
But his apparent determination to remove Mackay, who has carefully avoided criticising his boss publicly, with the club four points off relegation raises the stakes and reduces still further the chances of a verse of his next birthday song coming from south Wales.