Rotherham's Lionel Ainsworth wants Motherwell stay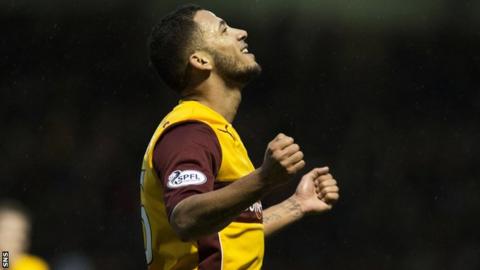 Lionel Ainsworth has pleaded with Rotherham United to allow him to remain on-loan with Motherwell.
The 26-year-old was speaking after his goal helped Stuart McCall's side to a
"I hope that, with every power within myself, I can stay," said the Englishman, for whom it was a second goal in nine Motherwell appearances.
"I love the club, brilliant club, the lads are great, great staff, great management."
Ainsworth has been out on-loan nine times from six different clubs during his career and hopes to end a reputation as a football nomad.
but is still
"I have not had any indications from them," said Ainsworth. "I am just playing for Motherwell at the moment and my focus is on them.
"I'd love to have some stability. I've been bought a few times and, if you want to play football, you go on loan and obviously it sticks.
"But I've done well to be in the game as long I have and there's a lot of players out there who are not playing any more.
"So I've got hunger inside my belly to keep playing football as much as I can and, if I can do that with Motherwell in the future, that would be brilliant."
McCall has cited injury problems for being unable to give Ainsworth a consistent run in his starting line-up.
"You get little niggles and it is going to put you off, but in my head I knew that, once I was back fit and able to work hard and get in the team, hopefully it would go swimmingly," said the midfielder, who was substituted 15 minutes from the end against the Buddies.
"I know I was tiring near the end, but I think that was just testament to the shift I put in.
"Obviously I've been wanting to play every game I can and because of the team selection I've had to bite the bullet and wait.
"Fortunately, I got another chance and I was so happy to score the goal. It was a brilliant feeling."
Ainsworth was gushing in his praise of manager McCall: "He is a top man, a great manager, knows what he wants and knows what he can get from his players.
"It is exciting to work under him. I'm enjoying it, I think it's brilliant and I've got a great respect for him and all the lads."