Paul Ince: Blackpool boss unhappy with boos after Brighton defeat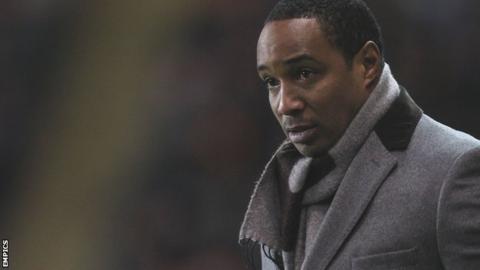 Manager Paul Ince says some Blackpool fans were "out of order" to boo his team during Sunday's loss to Brighton, their fifth defeat in six league games.
The Seasiders have taken just one point from a possible 18 and have slipped outside the play-off places.
But Ince feels criticism of his team is unfair, telling BBC Radio Lancashire: "We have to pull in the same direction.
"If you keep getting that [booing], you can easily fall down the league and that's one thing I don't want."
Blackpool were fourth in the table at the end of November following their last victory - a 2-0 success against Sheffield Wednesday at Bloomfield Road.
However, their loss of form in December has seen them dip to 10th position, three points from a spot in the Championship's top six.
The club's situation has not been helped by a series of injuries to key players and suspensions, resulting from
"Last season we were going down," said Ince after "The atmosphere was brilliant because we wanted to stay in the Championship.
"This year, because we've done so well, the expectations seem to have changed. But they shouldn't change.
"They shouldn't expect us to turn over teams like Brighton, Leeds, Derby, QPR and Burnley. These are teams that are much bigger than us financially."
The former England captain, 46, continued: "I don't like people booing the players or anyone during the game. If we're rubbish, boo us at the end of the game, and I can accept that.
"These boys are trying their hearts out for everybody. It disappointed me and it disappointed the players. I didn't enjoy it at all. We didn't get beaten 4-0. We lost with one mistake.
"It's not everyone, but we shouldn't have that reaction. It's bang out of order. We're three points from the play-offs, with the situations we've been through this season with injuries and suspensions. We've got to all pull together. If we don't, it's not good for anybody."