Tim Sherwood: New Spurs boss must take glorious chance

By Phil McNulty
Chief football writer
Last updated on .From the section Football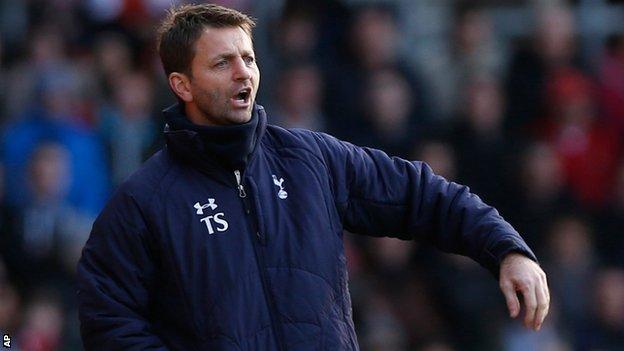 If the early days of Tim Sherwood's time in charge of Tottenham Hotspur are any measure, then chairman Daniel Levy has appointed a bold new head coach determined to create a confident environment at White Hart Lane.
Sherwood did not exactly hide behind the door when pressing his claims to succeed the sacked Andre Villas-Boas, and his positive selection in Sunday's 3-2 win at Southampton appears to have convinced Levy.
After that win, the 44-year-old may not have handed Levy an ultimatum - that would have only ended one way - but he stated his position robustly that he was not interested in being the short-term fix and wanted a genuine chance to put his ideas into action.
Such belief may just have impressed the demanding Levy, seeking a spark to ignite Spurs' season, sufficiently to make him believe this was a man worth appointing.
So the announcement came, a welcome distraction during the torpid goalless draw played out between Arsenal and Chelsea at the Emirates Stadium, that Sherwood has been handed the controls until the end of next season.
Of course this may still be short-term should Sherwood fail to flourish, especially with Spurs interested in such managers as Netherlands coach Louis van Gaal, available at the conclusion of next summer's World Cup.
But Sherwood has got his chance and many within the game will welcome the news of a relatively young, emerging British coach taking over at one of the great Premier League institutions.
He has already hinted at the tactical direction he will take with the attacking approach in victory at St Mary's and the reintegration of striker Emmanuel Adebayor, relegated to the margins and an outcast under the departed Villas-Boas.
Sherwood also garnered more plus points with his willingness, with some courage of his convictions it should be said, to swiftly give youth its chance and throw in winger Nabil Bentaleb, the French teenager who looked so promising in a 40-minute cameo on Sunday.
Levy has given Sherwood very public backing in the statement announcing his appointment, insisting Spurs were fortunate to have someone ready-made for promotion within their ranks.
As with the decision to sack Harry Redknapp after finishing fourth in the Premier League - the manager only denied a place in the Champions League by Chelsea winning the tournament - and the subsequent appointment of Villas-Boas, there is an element of a punt in Levy's decision.

For all the optimistic words and the buoyant feeling brought about by victory at Southampton, Levy has put a man in charge with no previous experiences of the pressures of Premier League management.
And with £100m spent on the squad after Gareth Bale's sale to Real Madrid, Levy is still likely to want Sherwood to deliver, or at least be very close to securing, the minimum pre-season expectation of a place in the top four and next season's Champions League.
Sherwood will need to work fast to reinvigorate a squad that had lost its way under Villas-Boas and was playing a sterile brand of football - a style that was never going to provide any shield against the pain of those heavy defeats at the hands of Manchester City and the final, fatal blow of losing 5-0 to Liverpool at White Hart Lane.
Many will also regard this as a strange appointment, removing Villas-Boas so soon in the season and replacing him with a rookie.
Sherwood hit the ground running even before he claimed the job permanently, with defender Danny Rose revealing he had already laid down the disciplinary law to some players making a late arrival on the training pitch.
It is a wise ploy designed to gain instant respect from a group of players who will be watching Sherwood as keenly as he will be watching them.
His two matches in charge so far have seen that Southampton win but also a damaging home loss to West Ham United in the Capital One Cup quarter-final.
And of course there remains the not inconsiderable matter of his qualifications - or his lack of one. Sherwood must obtain his Uefa Pro Licence, which remains a requirement for Premier League managers, although this should not be a problem as he will obviously show a willingness to take the course.
Sherwood has impressed in the rather grandiose title of Spurs' technical co-ordinator after being brought on to the backroom staff by Redknapp. He is also happy to work alongside technical director Franco Baldini.
The new coach is regarded as bright, confident and full of ideas. This is a different world to the one he has occupied before, however, and he may not have much of a honeymoon period if results are not produced.
It may not be unfair to suggest many Spurs fans were hoping for the appointment of one of the world's stellar coaching names once Villas-Boas was sacked, but timing and the lack of suitable candidates narrowed the field and certainly meant the avenue of Van Gaal could not be pursued, at least not until the summer.
Plenty will be sceptical but others will also celebrate Sherwood being given the chance at a club of such scale and significance as Spurs.
Levy has given Sherwood the security of that 18-month deal and he has already shown he believes he is the man for the club's long term, not a stop-gap until a more glamorous name becomes available.
The ball is in Sherwood's court. He has talked a good game. Now he must take the huge opportunity Levy has afforded him.