Ghanaian Eghan living out Dutch dream
By Pieter Stroink van Eizenga
BBC Sport, Amsterdam
Last updated on .From the section Football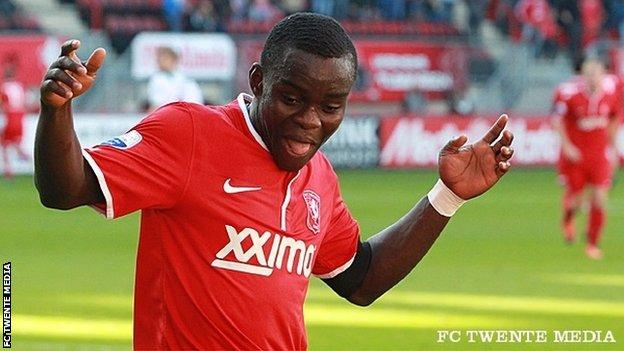 Transferring from a small club in the fourth tier of Swedish football to a Dutch title challenger may sound like a fairytale but it is a reality for Ghanaian Shadrach Eghan.
In January 2013 the teenager moved from IFK Klagshamn to FC Twente as a result of a successful trial with the Dutch club the previous September.
Eghan, who resided at the Swedish club to get a chance to go on trial elsewhere in Europe, revealed he had been on trial at FC Utrecht before that but they wanted another look at the young midfielder before making up their minds.
There was no such hesitation from Twente.
"They were immediately convinced and wanted to sign me as soon as I became 18," Eghan told BBC Sport.
"I didn't know anything about FC Twente, but I had enough general knowledge about football in Netherlands.
"I believe it is a nation with a great view on the systematic aspects of football and in tutoring young players. Also the multicultural aspect of Dutch football influenced my choice to play here."
Eghan was placed in the reserves when he first arrived at Twente to give him time to adapt to a new brand of football.
It was the continuation of his development that had already seen him adapt from the more physical approach he was used to in Ghana.
"Sweden was my first encounter with European football. African football is focused on your body, while Swedish football is all about tactics," Eghan said.
And to help him make the transition to Dutch football, Eghan was placed under the tutelage Patrick Kluivert, the former Netherlands striker who scored 40 goals for his country in 70 appearances.
"Kluivert was my first coach at FC Twente," revealed Eghan. "I was totally impressed by the way he inspired us and taught me how to be available for goals."
It was an experience that proved invaluable and has clearly paid dividends as Eghan has become a first-team regular at ex-England boss Steven McClaren's former team.
He has scored four goals in 17 appearances for the club and he admits "life is good in Holland".
Living far from home can be difficult for a young man trying to make his mark but Eghan is fortunate to have other Ghanaians around him who have made the same journey.
He says he is in contact with Matthew Amoah and Edwin Gyasim who both play for for Heracles Almelo, and there is also Mustapha Yahaya in FC Twente's reserve team.
And Eghan has also been called up by Ghana's U20s, playing friendlies against Hearts of Oak and Inter Allies.
As well as keeping in touch with his fellow Ghanaians, another source of comfort for Eghan comes from reading motivational books.
"I think they are of great help in my life," he said. "My favourite motivational speaker is former American politician Les Brown. Also the chairman of the Golden Boot Academy in Ghana is an inspirational figure for me."
On the field, Eghan takes his inspiration from fellow Ghanaian midfielders Kadwo Asamoah and Sulley Muntari, who he describes as "great examples of the national team - superb midfielders with each a different playing style".
But for Eghan, who stands only 1.65m tall, there is one man who he admires more than anyone else - the almost as diminutive Spain and Barcelona midfielder Xavi.
"Above all, Xavi is the player I watch most. He proves size is not important if you are a quality player," Eghan said.
If Eghan can emulate his hero, his future will be very bright indeed.