Vincent Tan row no excuse for Cardiff loss, says Malky Mackay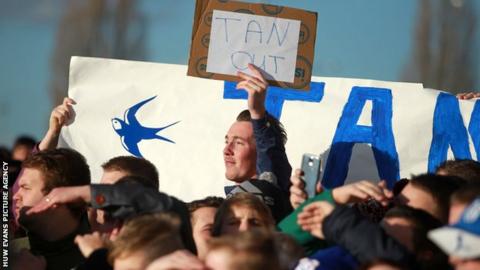 Cardiff City manager Malky Mackay refused to blame the off-field unrest at the club for the on Boxing Day.
Last week Mackay was told by owner Vincent Tan to resign or be sacked.
That threat has since been lifted but the situation saw fans protest against the Malaysian businessman's running of the club before Thursday's game.
"I'm certainly not going to use any excuses as far as that's concerned," Mackay said.
"My staff and my players prepare and work hard and professionally, and the fans have been fantastic from day one.
"We're washing our dirty linen in public at the moment. We prepared properly but individual errors are something we try and cut out."
Peter Whittingham missed a good early chance for Cardiff, before Mackay saw Southampton snatch three quick goals, as Jay Rodriguez struck twice before Rickie Lambert made it 3-0 inside 27 minutes.
The home side did improve after half-time but the damage had been done and the Saints held out to end a six-game winless run.
Cardiff slid to 16th in the Premier League table, two places and one point above the relegation places, although they face bottom club Sunderland at home on Saturday.
Despite some mixed results, Cardiff have claimed the notable scalp of title favourites Manchester City so far this season and Mackay is satisfied with their start to life in the Premier League - at least on the pitch.
"Overall we've been good with that this season, we've competed well. Going into the Christmas period and new year - halfway - we're not in the bottom three," Mackay said.
"I certainly feel very sorry for our fans, because they should be really enjoying the Premier League season.
"We're competing well, we deserve to be here and the people of Cardiff are being seen in a good light.
"Events are obviously putting us on front pages and that's not good for the club. It will have a detrimental effect longer term, so we've got to concentrate on getting back onto the back pages."
Cardiff chairman Mehmet Dalman, who is trying to repair the relationship between Tan - who bought a controlling stake in Cardiff in 2010 - and Mackay, has brokered a clear-the-air meeting between the two men.
But Mackay admits he is still in the dark as to when his showdown with Tan will take place, admitting: "I do not know when I will be meeting Vincent Tan, it is not something that has been conveyed to me."