Man City v Liverpool: Future looks good for resurgent Reds

By Phil McNulty
Chief football writer
Last updated on .From the section Football662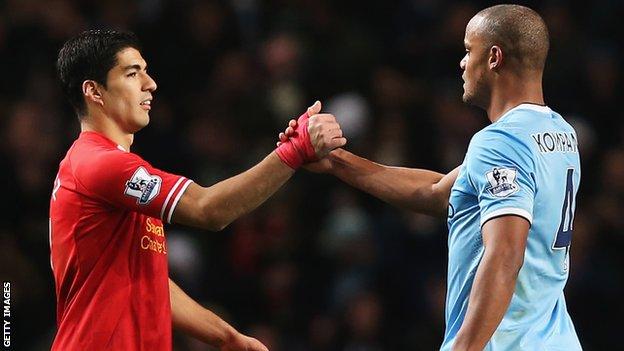 Liverpool celebrated Christmas Day on top of the Premier League and ended Boxing Day in fourth - but even in defeat at Manchester City, all indicators point to a team on an upward trajectory.
Manager Brendan Rodgers, perhaps in an attempt to apply some pre-match pressure, announced the title was City's to lose as they bolt improved away form on to league invincibility at The Etihad.
And, as it did after current leaders Arsenal were thrashed 6-3 less than a fortnight ago, the sense remains that Manuel Pellegrini's squad has all the weapons at his disposal to bring back the title lost to Manchester United last season.
So what of Liverpool? For too many seasons, at least in the eyes of their own supporters, they have been reduced to an irrelevance in title terms and have even dropped out of the Champions League places that they almost regarded as their right.
Liverpool lost 2-1 here, and Rodgers may find his complaints about the influence of "a Greater Manchester referee" in Bolton's Lee Mason the subject of Football Association scrutiny, but there is a growing body of work by players and manager to suggest a partial return to that elevated status is now a realistic possibility.
Let's start with a comparison. Those of us who sat in the freezing cold of The Britannia Stadium exactly 12 months ago and watched a thoroughly wretched Liverpool lose 3-1 to Stoke City had a year of progress laid out impressively in front of them at The Etihad.
Liverpool may have lost to goals from Vincent Kompany and Alvaro Negredo after Philippe Coutinho put them ahead, but once his bitter frustration has subsided Rodgers will find plenty to confirm his belief that his vision is taking shape.
Rodgers had a point and plenty of sympathisers when he complained about "horrendous" officiating, especially an offside decision against Raheem Sterling in the first half as the winger ran on to put the ball in the net.
He also had a case for a late shirt pull in the area by Joleon Lescott on Luis Suarez - although City could point to a series of similar offences by Martin Skrtel, whose default position for defending corners appears to be to illegally manhandle the player closest to him. It is being increasingly highlighted and he will not get away with it forever.
Rodgers, and he may realise it himself in the cold light of day, overstepped the mark with his questioning of Mason's appointment - but you suspect the root cause was the knowledge that this could have easily have been a landmark victory.
Liverpool's passing and pressing game, allied to the ever-present threat of the dynamic Suarez, should have earned at least a point here.
Manchester City goalkeeper Joe Hart, especially with saves from Coutinho and Jordan Henderson, was a monument to Pellegrini's measured man management. He has always been the Chilean's number one choice but looked rejuvenated following his recent enforced rest cure.
It needed his interventions and stout City defending to stop Liverpool putting the first blot on the league record of a side that has not just beaten teams at The Etihad this season, but obliterated many of them.
Hart's performance was a contrast to his opposite number Simon Mignolet. The Belgian has been an excellent signing but must take the blame for helping Negredo's pedestrian lofted finish into the net with a feeble attempt at a save.
Liverpool rightly cursed the loss but at the same time should draw confidence from looking perfectly at home in such elevated company. Realistically the title will be beyond them but a place in the top four is not - and pretty much everyone with the club's best interests at heart would have settled for that at the start of the season.
The groan as the board went up showing four minutes of stoppage time was testimony to how close Liverpool were running City, who have not had anxious moments like this against anyone at home in the league this season.
Suarez may not have continued his recent golden goalscoring streak but there are few players with the ability to cause panic around a stadium in the manner of the Uruguayan, although some of the old frustrations started to bubble over towards the end.
Jordan Henderson, with greater responsibilities in the absence of Steven Gerrard, was energetic while Sterling continued his recent improvement, awful second-half finish apart.
In among the blizzard of praise, deserved as it is, for Suarez, there has perhaps been a lack of credit for Liverpool's manager, so it is unfortunate that an injudicious comment about officialdom will take precedence over his overhaul of this team.
Liverpool had been accompanied by whispers of being flat track bullies and the beneficiaries of a kind fixture list for their impressive placing but this does them and Rodgers an injustice, as the 5-0 win at Tottenham and even this defeat proves.

He has put his stamp on Liverpool. Passing and pressing and with an attacking movement that will make them a threat to the best in the Premier League.
Of course Suarez is just as pivotal to it all as a player now in the world's elite and it still takes a leap of imagination to see him at Liverpool for too long if they are not in the Champions League.
There are plenty of signs, even as they digest this loss, that Rodgers is putting the structure in place to allow Liverpool take advantage of this season of unpredictability to finally get back into the top four.
With Gerrard and Daniel Sturridge to return, and with the sheer inspiration of Suarez, Rodgers has every right to feel Liverpool are moving in the right direction.
City showed they can grind out wins as well as achieve them with all the dramatic and spectacular flourishes that have characterised so many home victories this season - but Liverpool ran them mighty close.