Football League clubs consulted on return of standing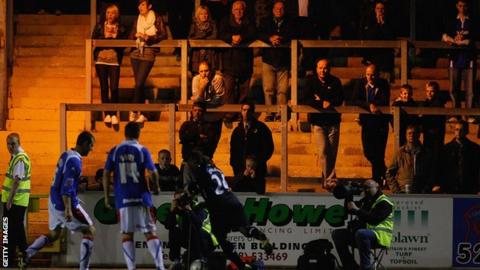 Standing could make a permanent return at all levels of the Football League after its 72 clubs were sent a document canvassing their opinion on the issue.
It is currently allowed in Leagues One and Two but Championship grounds must be all-seater after a club has played in the second tier for three seasons.
The consultation paper was sent to all Football League clubs on Friday.
The clubs, who had asked for more information about standing, will debate the issue at a meeting in February.
"It is now over to the clubs to get their views," said Football League chief executive Shaun Harvey.
"Speaking personally, I do not have strong views on this and it is genuinely a matter for the clubs."
The subject was initially raised at the Football League's annual chairman's conference in Portugal last June, with clubs voting in favour of further investigating the issue.
Acting on the wishes of its members, Football League officials gathered more information, including canvassing the opinion of the Football Supporters' Federation, which for many years has campaigned for safe standing.
"There has been a sea-change in attitude at clubs over the last two-to-three years towards safe standing and this is an example of that," said FSF co-chairman Malcolm Clarke.
"As far as the Football League is concerned the law is a total nonsense - it allows standing in League One and League Two but not in the Championship."
Football League executives also attended the German Super Cup final in July to develop their understanding of what is happening at grounds like Borussia Dortmund's Westfalenstadion.
The "Yellow Wall", as the southern terrace at Dortmund is known, can accommodate 25,000 fans.
Many German clubs have upgraded their terraces with "rail seats". These are metal seats that can be flipped up, and locked in place, providing space to stand behind a waist-high rail that runs along the back of the row in front. Every "seat" is linked to a ticket number, and can be flipped down to meet Uefa rules for European games.
The Football League document includes contributions from Derby County, Peterborough and Bristol City - three clubs who have expressed an interest in seeing the rules changed.
It also contains details of the changes that would be required from a football regulatory, government policy and legislative perspective were standing to return on a permanent basis in the Championship.
There is also a reference to the Hillsborough disaster, with clubs asked to be mindful of the views and feelings of people affected by it.
The disaster occurred when 96 Liverpool fans died after being crushed within Sheffield Wednesday's stadium during their 1989 FA Cup semi-final against Nottingham Forest.
The consultation document states: "The Hillsborough Stadium disaster still casts a shadow over our game to this day, and the memory of the 96 football fans that lost their lives must be respected."
The paper ends with four questions. These are:
Should the Football League approach the minister for sport to request that the 'all-seater' stadia requirement for Championship clubs be reviewed with a view to the re-introduction of standing accommodation?
Should the Football League approach the Sports Grounds Safety Authority to request that rail seating products be licensed in Football League grounds?
Should clubs be permitted to accommodate supporters in rail seating in the Championship?
Should clubs be permitted to revert from seating to standing accommodation in League One and League Two following relegation from the Championship?
All-seater stadiums have been compulsory in the Premier League since 1994.
There have been repeated calls for a return to standing, with a recent report claiming that 19 out of 20 clubs were open to examining the idea further.
However, the official stance of the Premier League remains that they are happy to comply with current legislation and do not anticipate pushing for a change of government policy.