Cardiff City: New boss must control football matters - Mark Lawrenson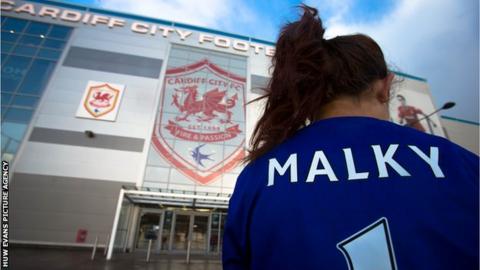 Whoever takes over as the new Cardiff City manager has to have complete control of football matters, says BBC Sport's football expert Mark Lawrenson.
Malky Mackay was sacked on Friday after falling out with owner Vincent Tan and ex-Manchester United striker Ole Gunnar Solskjaer is favourite to take over.
Lawrenson said the new boss must be "very careful" with his contract.
He added it must cover "what you are in charge of - you pick and sign players and [oversee] all the coaching".
Mackay's controversial departure came following weeks of discontent at Cardiff City Stadium.
Malaysian owner Tan - a dollar billionaire according to business magazine Forbes - wrote to to the manager on 16 December asking him to resign or be sacked.
Tan also accused Mackay of overspending in the transfer market and announced the manager would have nothing to spend in the January window.
The 41-year-old Scotsman refused to resign and led the team in the Premier League matches against Liverpool and Southampton before his dismissal.
Mackay's assistant David Kerslake is in charge for the home match against Sunderland on Saturday.
Lawrenson believes the Bluebirds, despite all of their recent off-field upheavals, will not have any problems attracting candidates to replace Mackay.
"Cardiff is a very attractive proposition," said Lawrenson.
"They obviously have money, they have a stadium, a good support base. I wouldn't be surprised if quite a few people would love the job.
"They just have to be very, very careful about the terms of your contract.
"I think the other thing is that they have had a bad run, but it won't take much to turn it around."
Lawrenson has sympathy for Mackay's plight having worked for disgraced businessman Robert Maxwell as manager of Oxford United for a year in 1988.
He resigned when Wales striker Dean Saunders was sold by the Oxford board of directors without his approval.
The former Republic of Ireland defender revealed he has been in contact with Mackay and claims Cardiff fans will be astounded by what has been going on behind the scenes at the club.
"I think there is a sense of relief [for Mackay] more than anything," said Lawrenson.
"They have had a bad run but they have just been promoted from the Championship. Look at his record - just missed out [on promotion] in the first year, lost in the League Cup final very unluckily on penalties, then got promotion and he was doing a very good job.
"The problem for the supporters is that they realised they had a very good manager in Malky Mackay and they realise in the owner they have somebody who wants to change the shirts, he wants to do this and he wants to do that.
"Listen, the man with all the gold makes all the rules.
"The problem for me, from the outside looking in, is that Vincent Tan had no hero worship and Malky had the hero worship from the supporters.
"The owner should be happy that he can make the decisions, he can hire and fire, but when you try to interfere on the football side, the relationship is fractured."