Phil McNulty's football predictions for 2014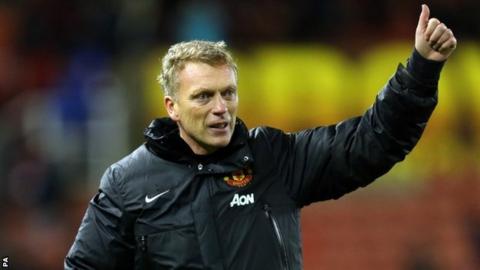 As the New Year's Eve celebrations move into 2014 amid reflections on the last 12 months, one date changed the face of British football forever.
Moments after 9am on Wednesday, 8 May 2013, the domestic game's most significant figure of recent times left the stage as Sir Alexander Chapman Ferguson announced his retirement as Manchester United manager after 26 years.
He went out in the place he enjoyed most - with United as champions for a record 20th time after a season in which, perhaps more than ever, the sheer force of the Scot's burning personality dragged a less-than-vintage squad over the line.
The signing of Robin van Persie enabled him to make that final flourish and now the floor is left to his chosen Old Trafford successor David Moyes and his rivals to fight over the prizes at home and abroad in the coming months.
So what will 2014 hold in a year in which, once domestic and European matters are settled, we will see the World Cup in Brazil dominate the summer agenda?
BRAZIL WORLD CUP 2014
Football Association chairman Greg Dyke may just have spoken for many England fans with his now infamous (but let's be honest light-hearted) throat-slitting gesture when Roy Hodgson's team were joined by Italy, Uruguay and Costa Rica in their World Cup group.
A journey into the Amazon jungle to face the Italians in their opening game adds an extra layer of complexity - but is that early pessimism actually justified?
England will not win the World Cup but on closer examination there may be more cause for hope than that initial reaction suggested.
Uruguay may possess the world-class strike force of Liverpool's Luis Suarez and Paris St-Germain's £55m Edinson Cavani - but they had to navigate the play-offs to get to Brazil so to portray them as world beaters is wrong.
Italy, inspired by Andrea Pirlo, should have overcome England in the Euro 2012 quarter-final long before the inevitable outcome of a penalty shoot-out but this is not a classic side under Cesare Prandelli and Hodgson must believe they can be beaten.
Of course, in an England context, their own standing was placed in an unflattering light by successive Wembley defeats by Chile and an under-strength Germany after qualification was sealed impressively against Montenegro and Poland.
England are hardly blessed with an over-subscription of world-class talent, so Hodgson will be praying Wayne Rooney maintains the magnificent form that has sustained Manchester United in the early months of the season and finally makes the mark on a major tournament that had eluded him since he emerged as a teenage superstar at Euro 2004.
So who will win the World Cup?
Having been in Rio for England's friendly at the refurbished Maracana in May, Brazil will be swept along on a wave of contrasting emotions - joy when the style is there but noisy frustration when it is missing.
Brazil played themselves in with victory at the Confederations Cup and I expect Luiz Felipe Scolari to bring joy to the spiritual home of the game for the second time in July.
THE PREMIER LEAGUE
The departure of Ferguson and the return of "The Special One" to Chelsea made the headline news and set the scene for what is becoming the most unpredictable Premier League title race in years.
As Moyes stepped in at Manchester United, Jose Mourinho returned to Chelsea after his old adversary Rafael Benitez dragged praise out of those who gave him the coldest of welcomes to Stamford Bridge by winning the Europa League against Benfica in Amsterdam.
Manchester City were also under new management as Manuel Pellegrini replaced Roberto Mancini, sacked after he was left empty-handed by victory for Wigan Athletic and their soon-to-depart manager Roberto Martinez in the FA Cup final at Wembley.
Whether it is a period of acclimatisation or simply a closing of the gap, 2014 starts with so many of these contenders still harbouring serious ambitions of winning the title.
Pellegrini's commitment to attacking football has seen a succession of sides swept away at The Etihad and now, with signs of improved away form after defeats at Cardiff City,Aston Villa,Chelsea and Sunderland, all looks in place for the title to switch back across Manchester.
But what of United? Moyes has suffered some rocky times, not least with two home defeats, by former club Everton - a result he could not manage in 11 years at Goodison Park - and Newcastle United in the space of days.
There have been some ominous signs of the old United, at least in the ability to find a way to win, since then and Moyes will feel they are close enough to the top for him to feel confident the odds might just be overturned with a trademark surge in from January onwards.
If Wayne Rooney's superb form continues and Moyes can somehow get Robin van Persie to enjoy a prolonged period of fitness, then only a fool would dismiss United's chances of title number 21.
Chelsea have also been hit and miss but they are right in the mix and make no mistake, for all the stuttering form, Jose Mourinho knows what it takes to win the Premier League.
Liverpool's attractive football and avalanche of goals, inspired by the brilliance of Luis Suarez, has led some supporters to dream about their first title since 1990.
This is a tribute to the work of manager Brendan Rodgers but realism suggests a top-four place will be regarded as a superb achievement - and one that is well in reach.
Last, and by no means least, Arsenal manager Arsene Wenger looks like finally getting a run for his money from a squad he has supported with such unswerving faith as they reclaimed top spot from Liverpool on Boxing Day.
So many would be delighted to see Wenger end a barren sequence stretching back to 2005's FA Cup win - not just for his purist principles but as someone who is a popular figure with so many observers of the game.
The winners will come from this group.
Spurs had plenty of backers when the £85m from Gareth Bale's sale to Real Madrid brought in enough new faces to reupholster Andre Villas-Boas's squad.
Sadly for the Portuguese, the transition proved beyond him and now Tim Sherwood is in charge at White Hart Lane on an 18-month contract. It is a gamble by chairman Daniel Levy and it is hard to see them troubling the Champions League places.
The verdict?
The return of Mourinho persuaded me to pick Chelsea as champions back in August - so there can be no departing from that choice now.
But hard-headed logic suggests that could be wrong and, as so many have said, this Premier League title is Manchester City's to lose.
PERSONALITY OF 2014
In plenty of ways (not all of them good) Liverpool's Luis Suarez was one of the personalities of 2013 - now he is on course to be the star of the coming year.
The Uruguayan spent the summer publicly angling to leave Liverpool, courting Real Madrid and Arsenal, who offered £40,000,001 for the striker in the belief it would trigger a release clause in his contract.
The release clause, perhaps to the surprise of Suarez and his agent, was nowhere to be seen and Liverpool stood firm against the sale of the villain of last season who was still serving a 10-game ban for biting Chelsea's Branislav Ivanovic at Anfield last March.
How richly this has been rewarded. Suarez returned from his ban seemingly on a mission to transform his image and ensure he is remembered as one of football's most brilliant, intense individuals currently playing the game rather than for his more sinister side.
Suarez must surely be in line for the PFA Player of the Year award. He has been the top flight's stand-out performer, not simply for the goals he has scored but for the quality of those goals.
And this is a story that will stretch into summer as one of the biggest threats to England's World Cup aspirations and will be parked right in front of manager Roy Hodgson for the rest of the Premier League season.
The cynics say another week without a Suarez controversy is just another week closer to the next one - but on the evidence this season English football should celebrate having a player of such brilliance in its midst.
YOUNG PLAYER OF 2014
Here there is better news for Roy Hodgson. The arrival of Roberto Martinez at Everton has witnessed the handbrake being released on one of the finest young England talents to emerge in recent years.
Ross Barkley, 20, has been central to Everton's new-look passing, attacking approach with a free role that removes some of the element of risk from the youngster's occasionally poor - understandable in one so young - decision making.
Barkley has proved against Norwich City and Swansea City he can score spectacular goals with left and right foot. He has an outstanding range of skills and touch for such a big, powerful individual and could give England an element of the unknown in Brazil.
If his development continues, he has every chance of being a starter against Italy in Manaus.
THE CHAMPIONS LEAGUE
The Premier League quartet made it through to the last 16 but it is still hard to see any of Manchester City, Arsenal, Chelsea and Manchester United actually lifting the trophy.
City and Arsenal face the might of Barcelona and Bayern Munich respectively in the last 16 and both will do well to make it further.
Pellegrini's side will pose a real threat to the Catalans but Arsenal may end up paying the price for finishing second in a fiendishly tough group that threw them in with Borussia Dortmund and Napoli.
City's win in Munich suggests they could be a real wild card in the Champions League but realistically the sights will be trained on the usual suspects such as Bayern, Real Madrid and Barcelona should they make it through.
While a Premier League winner will be welcome, it is hard to see them seriously threatening German and Spanish domination.
And with Pep Guardiola in charge at the Allianz Arena, I go for Bayern to retain the trophy they won against Dortmund at Wembley last season.
AND FINALLY
Two other domestic trophies are up for grabs in the shape of the Capital One Cup and the FA Cup.
Winners?
Capital One Cup - Manchester City
FA Cup - Liverpool.