Roy Hodgson: England boss on the 2014 World Cup in Brazil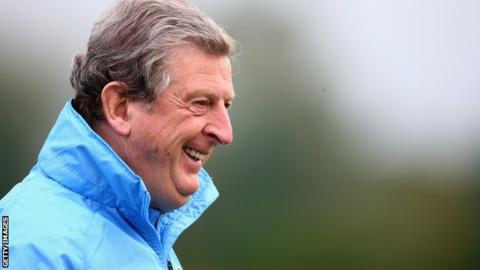 England boss Roy Hodgson is set to embark on what is likely to be a career-defining year.
In a managerial career lasting nearly 40 years, the 66-year-old has taken charge of 16 teams in eight countries and guided Switzerland to the 1994 World Cup in the United States.
Now he takes his own country to the 2014 World Cup finals in Brazil, where England will face Uruguay, Costa Rica and Italy in the group stage.
Here are the key points of his wide-ranging interview with BBC Radio 5 live's Sportsweek programme.
On England's 'Group of death'
There are no good and bad draws. There will not be any easy ones because it is the World Cup and only 32 out of several hundred teams in the world take part in it.
Once you get there you better be prepared because you will be coming up against teams probably at the same level or possibly a better level than yourself. But the beauty is that you are there taking part.
When I look at the other groups I don't see too many where life would be that much easier, and you can also be fooled into thinking life is going to be easier.
It is a dangerous thing to do. We did it in 2010 when people were suggesting that England's group in South Africa was very easy and it would be a simple matter to top the group. All the talk was about how the last 16 would look, and even how the last eight would look.
On playing Italy in the hot and humid city of Manaus
I don't think you can really prepare for Amazonian conditions. You can prepare for heat and humidity and all of our training does that, other than the few days we spend in England before our farewell match at Wembley.
In particular, the eight days in Miami will be very useful. In the summer it has very similar temperatures and humidity levels to the north of Brazil.
We will go to Manaus two days before the game and stay over afterwards to give the players a chance to recover. That is as good a preparation you are likely to get without spending weeks and weeks in Manaus, which would not prepare you very well for matches when we go south to Sao Paulo and Belo Horizonte.
We spent a lot of time preparing our base camp and it would be a pity to lose that and start again from scratch and take two or three alternates foisted upon us by Fifa because we've not had the opportunity that we had in Rio to choose the camp and training site we wanted.
On the prospect for young players
You have got to be careful with names of young players who suddenly burst on the scene.
This time last year Wilfried Zaha was suggested as a shoe-in for the squad, but he's been usurped by Ravel Morrison and Ross Barkley, and, who knows, their places might be usurped.
I think those two players [Morrison and Barkley] must realise we do have great faith in them and enormous admiration for their talent. We think they will be exceptional players but they have got to perform week-in, week-out and make sure, at West Ham and Everton respectively, that they are on that team sheet. If they can do by keeping more experienced players out the team then, come May, their names will be in serious discussion.
On the importance of mental strength
I would not accuse our players of lacking mental strength. Sometimes we suffer from fatigue because we have such an intensive league without a break - we sometimes cram 60 games into [the season]. The three weeks given before a major tournament is little time to get the team and squad into the situation you want it to be.
The Germans, for example, have an advantage with fewer games in their league, not as much emphasis on their cup competitions as we do and they also have a long winter break. That is more helpful than so-called mental strength.
We have to be careful that we don't give other nations miraculous qualities that we don't possess. We have mentally strong players and we also have players who perhaps have a mental strength that is not so strong.
On penalty shoot-outs
We have a woeful record in penalty shoot-outs. Unfortunately, the more we talk about it the more pressure we heap on ourselves. We will do everything we can. We do as much as any other team to prepare ourselves for the moment. But a lot of it boils down to the individual player and his composure, quality and faith in himself.
On the atmosphere in the England camp
You do your best to avoid boredom. We think about it closely. We also need to get the balance right. It could be a once in a lifetime [experience] for some so we ask them to be certain, in a brief period, there has got to be an element of sacrifice because you cannot live the life you normally live on a daily basis.
There is one thing you can do that I made the mistake of not doing with the Swiss national side in the United States in 1994. We will be in a central part [of Rio], where there are beaches and golf, all those things that you can do to give players the opportunity to enjoy their non-football life.
But it's not home, it's not the wife and kids or the favourite television programme. It is the World Cup, so if it means so much you want your wife and kids around you and your favourite television programme and restaurant then unfortunately the World Cup is not for you.
On winning the World Cup
I've never lost it in a dream. Not many expected Denmark and Greece to win the European Championships (in 1992 and 2004 respectively). We cannot ignore countries, especially on the South American continent, because they are probably in a better position to be favourites, but I would not like to say who will win.
We have got our lottery ticket at least. I don't know what would be success for us. It is dangerous to say, so whatever I answer it would be wrong. If I say it would be reaching the final then people say that is ridiculous because you cannot put pressure on the players. So it's a question I duck all of the time.