Tom Huddlestone cuts hair during Hull victory over Fulham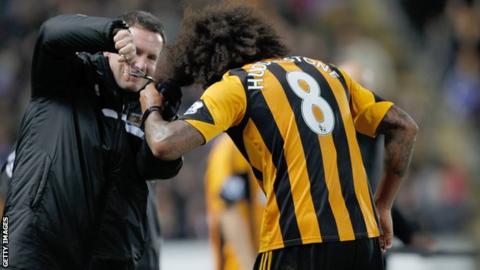 Midfielder Tom Huddlestone had a quick hair cut during Hull's 6-0 Premier League victory over Fulham after scoring his first goal in 32 months.
Since scoring for Tottenham against Arsenal in April 2011, he has raised money for charity by promising to grow it until he next found the net.
Huddlestone's celebration saw him have a lock of hair clipped on the sideline.
He said: "I set a charity up in October 2011 - my mates dared me to do it. I've had injuries so it dragged on a bit."
Huddlestone, who was also celebrating his birthday, added: "I'd like to dedicate the goal to my mum. Twenty seven years ago she was in labour with me so hopefully this will make up for the pain."
He also hit the woodwork twice in the thumping victory over the Cottagers and was involved in three of the other goals.
Manager Steve Bruce, who signed Huddlestone from Tottenham in August, said the midfielder's display was the best performance he has ever seen.
Bruce said: "Tom's been waiting for that goal. I've seen some great performances but I've never witnessed something as outstanding as what he produced today. Everyone else fed off that and joined in.
"The lads stood and applauded Tom when he walked into the dressing room and that doesn't happen often.
"He gave a masterclass of how to play in midfield. He had the lot: free-kicks, passing range, goals, a shot from 40 yards."
On the chances of Huddlestone forcing his way into the England squad for next year's World Cup, Bruce added: "I can't see any reason why not.
"It's not for me to tell [England manager] Roy [Hodgson] what to do but it's going to be hot over there and we have to have people that can look after the ball.
"He's a naturally gifted player. Playing week-in, week-out has done him the world of good and he's enjoyed himself immensely."
Huddlestone has played four times for England and although he is targeting the Brazil World Cup, he maintains that the Tigers are his priority.
He said: "That would be an ideal scenario. Hull to stay up and me to be in the England squad on a regular basis. But we just have to make sure we're safe."