Sunderland's Fabio Borini released from hospital after feeling ill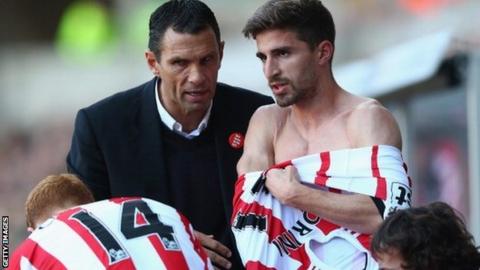 Sunderland striker Fabio Borini has been released from hospital after falling ill during his team's 2-2 draw at Cardiff City.
The Italian, 22, was replaced by Steven Fletcher at the beginning of the second half and was taken to hospital after being "really, really sick".
"He was sick before the game but wanted to play, but at half-time it was too much," Poyet said.
After the game Poyet revealed Borini was "feeling better".
"The doctor called me," Poyet said. "He is not going to fly back with us, he will stay down here overnight, but he has been released from hospital.
"Luckily it is nothing serious.
"We were really, really worried so the doctor decided rightly to take him to hospital.
"But he has been released now. It was a virus or sickness, so no problems."
Borini, on loan from Liverpool, had Sunderland's best two chances of a poor first period.
His side improved after the break and ended up drawing 2-2 thanks to two late goals, including one by Fletcher.
Poyet praised the attitude of his players to come back into the game, with Fletcher's 87th-minute strike followed by Jack Colback's injury-time equaliser.
"The character was there all the time," he said.
"In the last 20 minutes I could see a goal coming. Everything changes with a goal - it looks like you have more players. In the end we deserved a draw."
The Uruguayan said he was disappointed by his side's slow start in the Welsh capital.
"I didn't expect it. It took us 25-30 minutes to get going. You cannot lose that time in a game. Luckily today, it was only 1-0. The game looked difficult for us.
"Credit to the players. Cardiff couldn't leave their half and paid the price. There is something going on when you're 2-0 up - it changes your attitude."