Tommy Wright praises hat-trick star Stevie May's work ethic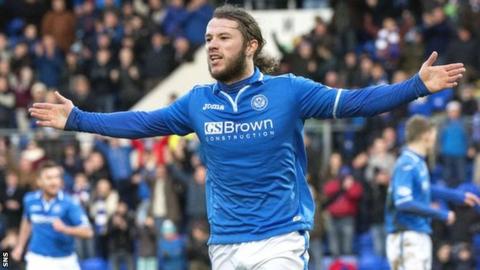 Tommy Wright was delighted for Stevie May after his St Johnstone hat-trick against Dundee United ended the team's 415-minute goal drought in the league.
May re-instated his flow of goals when he scored a penalty after Calum Butcher had been sent off in the 20th minute.
"He's a great kid and he works extremely hard," said the manager.
"He has gone through that run that all strikers go through but he came through that today and showed what a good player he is."
May's hat-trick takes his goal tally for the season to 15 and has helped St Johnstone retain a place in the top six of the Scottish Premiership.
Wright told BBC Scotland: "I think we started the game really well and I hope that the performance isn't undervalued because of the sending-off because I felt we were by far the better team up to that stage.
"We wanted a high-tempo game against them and to press them high up the pitch and we did that.
"But I thought also we played some good football. It was important we kept the ball and moved it from side to side well.
"I hope we get the plaudits that we deserve for a complete and professional performance."
Other than two goals in a Scottish Cup win over Livingston on 30 November, Saints had not scored in the league since a 3-1 home win over Kilmarnock on 9 November.
Asked if he had read newspaper articles highlighting the paucity of goals, Wright replied: "The press have got a job to do.
"You can only deal with the next game. If you keep looking back at what you haven't done in previous games, that brings a negative into it.
"I think we proved how good we can be and I'm really pleased with that.
"I know how tough it is to win games in this league.
"We have had some really good performances this year and it is up to us to get as near to, or match, that standard every week."