Newport keeper Lenny Pidgeley to play with fractured thumb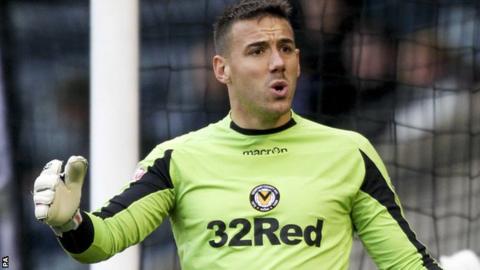 Newport County keeper Lenny Pidgeley has been cleared to play in Wednesday's League Two match against promotion rivals Oxford United.
Pidgeley fractured his thumb in Sunday's 1-0 defeat at Burton Albion and was doubtful for the game.
Newport's other keeper Jamie Stephens is injured and it was feared defender Andy Sandell might have to play in goal.
Fifth-placed Oxford are one point and two places above Newport.
Pidgeley was in inspired form against Albion, keeping them at bay with some fine saves.
After the game the 29-year-old told BBC Radio Wales he had injured his thumb and said he might be a doubt for the match against Oxford.
"I took a bit of a whack in the first half and I pretty much got through the second half on adrenalin," Pidgeley said.
If Pidgeley had been ruled out his likely replacement was defender Andy Sandell, who had been tried out during five-a-side training but has escaped a spell with the gloves for now.