Brazil braced for courtroom drama ahead of World Cup 2014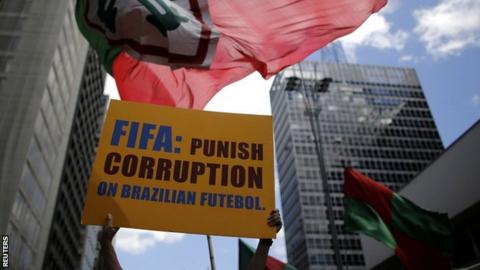 World Cup year in Brazil could hardly be more fascinating.
No other society gears itself up so much for international football's main event, painting and decorating its streets as if for a jubilee.
But no other society has also seemed set to protest about World Cup spending on the scale that could happen in a few months. We are living in interesting times.
For the diehard, week-in week-out fan, though, the club game is the main driver of passions, in Brazil as elsewhere.
And how to get excited about 2014 if 2013 shows no signs of ending? After 38 rounds, the Brazilian Championship has had two more in the courtroom - and there will probably be more to come.
At the centre of the hurricane is a traditional yet modest club from Sao Paulo, Portuguesa, gamely getting by on crowds often as low as 2,000.
Seen as relegation certainties, they battled their way through the campaign to finish 12th in Brazil's 20-strong first division. But, as it stands, they are still going down.
In the last game, with safety seemingly assured, Portuguesa fielded an ineligible player - they have been found guilty by the sports justice system, and their appeal was unsuccessful.
The penalty handed out to them is the loss of the point gained in the (drawn) match, plus the docking of a further three points. This is enough to drop them into the relegation zone.
There are two problems here. The first is that the team who benefit from this situation are Fluminense, the politically powerful club of the Rio elite.
The 2012 champions lost Deco to retirement, sold some important players and had an awful run of injuries, including one to international centre forward Fred.
Fluminense have twice benefited from behind-the-scenes manoeuvres. In 1996 they were saved when, as a consequence of a refereeing scandal, all relegation was cancelled, and four years later they were allowed to jump straight from the third to the first division.
Now, only the fact that the full penalty has been handed out to Portuguesa has saved Fluminense from another trip to the second division. That makes three off-the-field actions in their favour.
At least on this occasion the rulebook has been followed. But this brings us to the second problem. The punishment handed out to Portuguesa seems disproportionate to the crime; begging the question, although due process may have been carried out, has justice really been administered?
The circumstances are as follows. At the end of the 36th round, Portuguesa attacking midfielder Heverton, angry at the lack of stoppage time, swore at the referee. He was given the red card, and automatically suspended from the next match.
On the eve of the 38th and final round, he was judged and, based on the gravity of his offence, his suspension was extended to two games. It seems at this point that Portuguesa had gone to sleep.
They had - apparently - made sure of first division survival in their penultimate match, and it could well be that their legal department was not in a full state of concentration. But they were not the only ones.
The CBF (Brazil's FA) has recently started an internet service aimed at informing clubs of disciplinary decisions. Heverton's suspension was increased on Friday afternoon, and the match was on Saturday - at which time the information on the site had not been updated.
All but two of the matches in the last round were played simultaneously on Sunday. Portuguesa's game was brought forward a day precisely because there was nothing resting on it; barring a mathematical miracle they were guaranteed survival, while opponents Gremio had made sure of their place in the 2014 Libertadores.
Heverton came off the bench for the last 15 minutes of a tame goalless draw. And this has proved enough to relegate a club who finished 12th.
Portuguesa, in slightly confusing circumstances, were guilty of no more than an administrative lapse. No sporting advantage was sought, nor gained from their actions. Is the full penalty really appropriate in these circumstances?
Should their punishment really be exactly the same as one dished out to a club which knowingly fields an ineligible player in a crunch game and hopes to get away with it?
The STJD, Brazilian football's sports tribunal, says that it cannot take any of these factors into account. The rules were broken and the penalty has been applied.
But there is a glaring contradiction in their position. In the opinion of the STJD, Heverton's red card offence was sufficiently grave to warrant an extra punishment. So they can take into account the prevailing circumstances when punishing the player for the red card.
Why, then, are they utterly unable to take into account any of the circumstances when punishing his erroneous selection for the game against Gremio?
This leads to a further question. If they really believe that circumstances cannot be taken into account, how do they profess to administer justice?
Surely the principle of proportionality should apply - that the punishment should be proportional to the severity of the offence.
This principle is certainly part of the conventional justice system - and it would seem sure that is where this case is heading.
Any private individual can bring this case before the law courts, and many Portuguesa supporters are preparing to do just that. The whole thing could drag on for months.
At the turn of the year it is not entirely clear which, or how many, teams will contest the 2014 Brazilian Championship or what format will be used. These, then, are not just fascinating times for the World Cup.
Send questions on South American football to vickerycolumn@hotmail.com, and I'll pick out a couple for next week.
From last week's postbag;
With such an array of midfield talent at his disposal, who will be left out when coach Scolari names Brazil's World Cup Squad? Paulinho, Fernandinho, Luiz Gustavo, Lucas and Sandro can all play the anchor man role but two or three of them will surely have to miss out. JJ Williams
Paulinho is not the anchor man - he's the one with more freedom to bomb into the opposing area. The holding role is Luiz Gustavo's - putting him in the side in June was a crucial part of Scolari's jigsaw, and barring injury he is a certainty. At the moment his back up is Lucas Leiva, who has taken over from young Fernando, who recently moved to Shakhtar. Sandro and Fernandinho are on the outside looking in - clearly the latter has an opportunity to push his claims in the Champions League, and he is aware that the Premier League is giving him much more visibility than he had in Ukraine.
But the problem is lack of time - there is only one game (5 March v South Africa) before the squad is announced. And with everything going so well for the national team in 2013, it is not easy for anyone to force his way in.
Do you think that Man United's Rafael will get in the Brazil team soon? He is playing very well now. I think he is a real threat going forward and has become an accomplished defender. David Crompton
Same problem as Fernandinho (above) - not enough time. Daniel Alves is first choice right-back, and, perhaps surprisingly, Maicon looked good when he was recalled in the last few months. Barring injury, it is hard to see them being displaced - and the competition has become fiercer now Rafinha is getting a game at Bayern Munich.