Liam Ridehalgh: Tranmere Rovers set to miss out on loan extension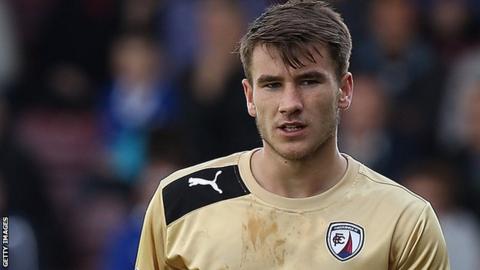 Tranmere face a defensive crisis ahead of Wednesday's visit of Wolves, with Danny Holmes injured and loanee Liam Ridehalgh returning to Huddersfield.
Manager Ronnie Moore said a deal for Ridehalgh to stay until the end of the campaign had been all but agreed.
But a late change of heart is likely to see the 22-year-old head back to Town.
"They don't want him out on loan until the end of the season so I don't know what will happen there," the Rovers boss told BBC Radio Merseyside.
"That's come at the wrong time for us because everything was going to go through.
"We're just hoping something can be sorted. It was a shock, the message we got. We're still knocking on the door and begging to see whether we can get it. Time will tell, but time's against us at this present moment."
And news of Holmes's predicted four-week absence with an abductor strain adds to Moore's defensive problems.
He added: "With Danny missing as well, we're going to be a little bit short defensively - and that's just what you want against Wolves."
Ridehalgh's loan spell with the League One club ended after the left-back making 17 appearances during his time at Prenton Park.
Tranmere lie one point and one place above the relegation zone at the halfway mark of the season, and that has conceded 43 goals in 23 games remains the major priority for Moore.
"We're a good side and there's goals in us, so I'm not concerned about that," said the 60-year-old. "What concerns me is getting that defence right. If we don't, we'll be hanging on and looking over our shoulder all season. We don't really want that, but it won't be easy."