Bury boss David Flitcroft likens League Two to rugby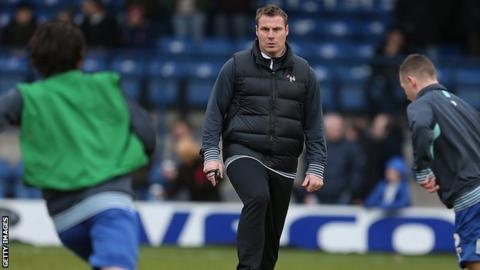 Bury manager David Flitcroft has likened some of the football in League Two to rugby - but insists his team will play "the right way".
The Shakers defeated York 2-1 on Sunday - Flitcroft's first win as Bury boss in his fourth match in charge.
"I would never resort to some of the football I see in this league, just smashing the ball [up field]," he told BBC Radio Manchester.
"It is almost rugby and something I will never commit to."
Anton Forrester gave the home side the perfect start against the Minstermen, slotting home after just 38 seconds, before Nathan Cameron doubled the lead in the 19th minute.
Michael Coulson hit back for the visitors in the second half, but Bury held on for the win, which leaves them in 20th position in the division, two points above the relegation zone.
Former Barnsley boss Flitcroft, who took over at Gigg Lane on 9 December, says his players have to buy into this philosophy.
"Football is an obsession to me, playing the right way is an obsession and it takes some time," he added.
"It takes some thought and great detail, with a lot of time spent on the training ground. If the players commit to what I am teaching them, they will get better.
"Players want direction, they want leadership and need to know where they want to be at certain times.
"It is not freedom football we are playing, there is a plan to it and a real process."