Adam Chicksen: Brighton & Hove Albion left-back reflects on debut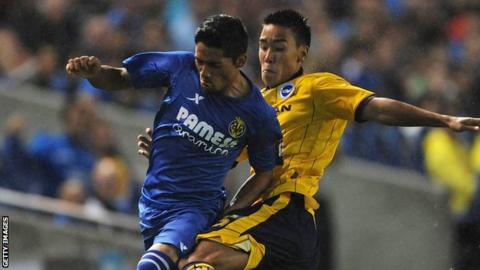 Brighton & Hove Albion left-back Adam Chicksen hopes he has impressed head coach Oscar Garcia after making his debut in the 1-0 win at Blackpool.
The 22-year-old, a summer signing from MK Dons, came on as a substitute after Stephen Ward sustained a concussion.
"Obviously you do get frustrated as a player as you want to play," Chicksen told BBC Sussex.
"I've been working hard and waiting for an opportunity like that. Now it has come I hope I have taken it."
He added: "I've been looking forward to it all season.
"I've come in to show what I am about and my strengths but sometimes you have got to wait for those opportunities."
Chicken signed a three-year deal with the Seagulls in the summer after coming through the youth ranks at MK Dons and making 93 appearances for the League One club.
However, he was sidelined by injury at the start of the season and has since had to wait for his chance following the arrival of Republic of Ireland international Ward.
"It is a team game and Wardy has been playing great," Chicksen said. "Sometimes you have got to just bite your lip and get on with it.
"You look to these sort of players, with a lot of experience, to pick up as much as you can. There are other players, such as Bruno, and I want to keep learning and improving.
"When chances come like that you have got to perform to the same level."
Fellow Albion defender Inigo Calderon was impressed with how Chicksen fared on his first-team debut at Bloomfield Road on Sunday.
"He was spectacular as he has not played with us all season," the Spaniard told BBC Sussex.
"He played against one of the best wingers in the division in Thomas Ince. He has been training so hard and waiting for his chance.
"You have to keep calm in your mind. I am happy for him because when you train so hard you deserve a good performance."