Truro City boss Steve Massey hails 'first-class' display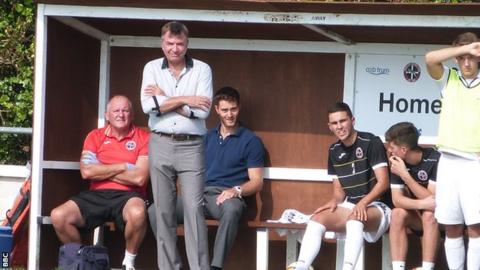 Truro City manager Steve Massey paid tribute to his team's goalscorers after their finishing prowess helped them to a 5-0 win over Bashley.
The White Tigers brought the curtain down on a rollercoaster 2013 with a demolition of the league's bottom side.
Ben Watson's brace was followed up by strikes from Olly Brokenshire and Cody Cooke and a Steve Tully penalty for Truro's biggest win since October 2011.
"The quality of the goals was great," Massey told BBC Radio Cornwall.
"Ben Watson's first one was a classic striker's goal, he anticipated the knockdown, got in front of the defender and smacked it into the top corner on the half-volley.
"Olly's goal was first class. If that was on TV, Gary Lineker would keep showing it!
"The keeper's kicked it out to him, 35 yards out by the touchline, he's controlled it perfectly and then with his second touch volleyed it into the net.
"And Cody did what he can do really well - as soon as it left his foot, it screamed into the top corner, it was a cracking goal.
"But great credit to Bashley, they were fresh - they hadn't played for a couple of weeks because of postponements. They're a young side and they really harassed, and chased and fought for everything and after 30-odd minutes if somebody had said 'will you take 1-0 or 2-0 today?', I'd have taken it.
"We huffed and puffed and quality on the final ball was lacking at that stage."
Massey, who praised the club's groundstaff for their work in getting the match on following the heavy rainfall in the south-west, said the result could have been even better for his side.
"If we'd taken all our chances we could have doubled that scoreline, without a doubt, but Bashley kept going," he said.
"But I'd always settle for a 5-0 - it's a great result for the club and the boys."