Luke Freeman: Stevenage open to offers for winger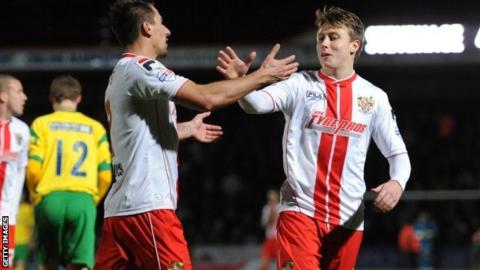 Stevenage winger Luke Freeman could be on his way out of Broadhall Way, with the club admitting they are prepared to listen to offers for the 21-year-old.
Freeman has been the subject of several enquiries from Championship sides ahead of the January transfer window.
"Luke's been brilliant for us, but we are under water financially," said Boro chairman Phil Wallace.
"If the right offer comes in for him and for us, we shall have to consider rebuilding without him."
Freeman, who signed for Arsenal as a 16-year-old, has made 29 appearances for Stevenage this season, scoring three goals.
He joined Boro on a permanent deal in January 2012, having previously been on loan at the club from the Gunners.
"Due to the carry over of contracts from last season, our budget is the highest in our history and a good part of the overspend is invested in players that Graham Westley would choose not to have, given a choice." Wallace said in a statement on the club website.
"That would be manageable if our gates were rising, but we are six figures down on gate income over last season at the half-way mark so it's hurting.
"But we're an optimistic lot at Stevenage and it would be a brave man that bet against us not enjoying a strong second half to the season."
Stevenage are currently second-from-bottom of the League One table, with just five league wins all season.
The club said that record signing James Dunne, striker Dani Lopez and midfielder Robin Shroot are also expected to leave in the January window.