Early start for Warrenpoint-Linfield amid floodlight concerns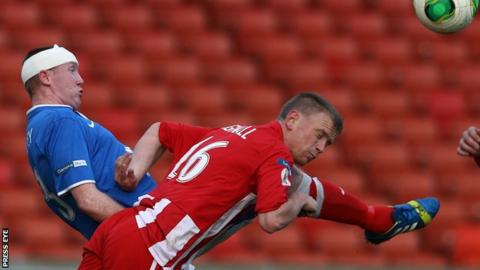 Warrenpoint Town's home game with Linfield on Saturday has been brought forward to 13:30 GMT amid concerns over the floodlights at Milltown.
Warrenpoint's first match back at the redeveloped Milltown, against Glenavon on 20 December, was abandoned when a floodlight went out at half-time.
The same light failed early in Saturday's game with Ards, although the match continued to half time.
Repairs to the light led to the second half being delayed for 20 minutes.
The Premiership encounter appeared set for an abandonment during the half-time interval before emergency work did manage to restore the floodlight.
Saturday's fixture was scheduled for a 15:00 kick-off but it has been switched as a precautionary measure.
Linfield top the league table by six points while Warrenpoint have moved up to 10th.