Johnny Heitinga rejects West Ham but expects to leave Everton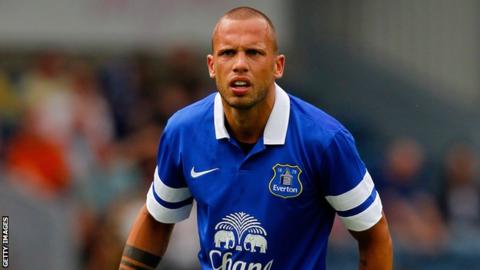 Everton defender Johnny Heitinga has turned down a move to West Ham despite the two clubs agreeing terms for the 30-year-old's transfer.
"You have to be convinced that you are taking the right step and I was not," said Heitinga.
"It is not about money because that was not the problem with a move to West Ham. I'm confident I will find another club before 31 January."
West Ham need cover for injured centre-backs James Tomkins and James Collins.
Hammers boss Sam Allardyce said on Wednesday that he was hopeful of concluding a deal for Heitinga, but will now have to look elsewhere.
Heitinga, who signed for Everton from Atletico Madrid for £7m in 2009, has lost his place in the Netherlands squad after failing to make a single Premier League appearance this season for the Toffees.