Chelsea: Oscar deserved booking - Jose Mourinho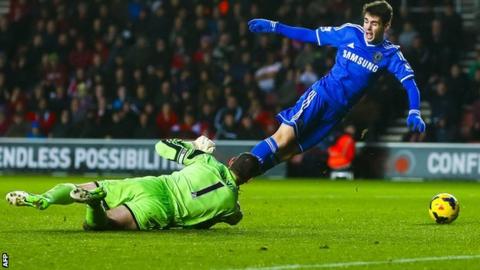 Chelsea manager Jose Mourinho admitted Oscar deserved to get a yellow card for diving in the 3-0 win at Southampton.
Mourinho was critical of Liverpool striker Luis Suarez's "acrobatics" in Chelsea's victory at Stamford Bridge.
And he had no complaints when Oscar was cautioned for tumbling over Southampton goalkeeper Kelvin Davis at St Mary's.
"It was deserved - a good yellow card from [referee] Martin Atkinson. Oscar is a clean player who was waiting for the goalkeeper to smash him," he said.
"The goalkeeper was coming then stopped so in the end Oscar is trying to touch the goalkeeper instead of the goalkeeper smashing him.
"It was a fair yellow card but I also accept Oscar's explanation to me. When he saw the goalkeeper coming he is thinking 'penalty and red card' but the goalkeeper has a lot of experience and stopped.
"This is one thing. Another thing is what you see by other players from other clubs. When a top referee in this country makes a good decision on these yellow cards hopefully others will follow and kill this situation."
Juan Mata looked unhappy when he was substituted for 22-year-old Brazilian Oscar early in the second half - but Mourinho insists he wants to keep the Spain international at Stamford Bridge.
Mourinho said: "I don't want him to go. That is my opinion and my wish but my door, and the club's door, is always open.
"When a player wants to speak with us we are there for them but if you are asking me do I want to sell him - I don't want to sell him."
On any anger from Mata at his substitution, Mourinho said: "I didn't see Juan's reaction. Perhaps he was frustrated by the 0-0 result at that time because we knew we had to win.
"In the dressing room everybody was happy and celebrating the victory, so for me I have to believe the frustration was with the score at the time."
Michael Essien's future at Chelsea was thrown into doubt when his agent suggested he could leave the London club because of a lack of playing time.
Mourinho again stressed he wanted to keep the Ghana international, but admitted he could not offer the player guaranteed first-team football.
"I offer nobody - not Michael, not nobody [guaranteed playing time]," he said.
"I understand that players think about national team, the World Cup and playing regularly, but my players have to think of the team before the players. Michael knows that perfectly."