Cardiff City: Ole Gunnar Solskjaer can be a success - Arsene Wenger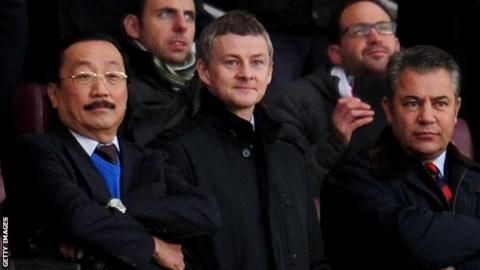 Arsenal manager Arsene Wenger has tipped Ole Gunnar Solskjaer to be a success as Cardiff City boss.
Former Manchester United striker Solskjaer's appointment is a formality after being at Emirates Stadium for Cardiff's 2-0 defeat to the Gunners.
"He has already experience as a manager in Norway, so he has learned his job," said Wenger.
"He was an intelligent player, so he is an intelligent boy as well, and that will help him to be successful.
"It is a chance. Basically what you want when you are young is a chance, and you have to make the maximum of that chance."
Cardiff chairman Mehmet Dalman has been in negotiations with Molde boss Solskjaer since the sacking of Malky Mackay last Friday.
Owner Vincent Tan sent his private jet to collect the Norwegian on Wednesday morning and, after landing at Luton airport, he travelled to meet the owner and Dalman in London and watched the defeat to Arsenal in the directors' box.
Solskjaer will take over a side just two points clear of the relegation zone after two late Arsenal goals condemned a brave Cardiff side to a 2-0 reverse.
"I have seen him before the game, and they played like they knew he was in the stand," said Wenger.
"Cardiff has the basic ingredients to survive in the Premier League. You would say if you look at their record they need to add a bit more goals offensively to stay in the league.
"If he [Solskjaer] can find that in the final third something clinical like he was, then they will stay in the league because they have the basic quality to do it."
Mackay's removal followed a public row with Tan, who wrote to the manager on 16 December asking him to resign or be sacked.
Tan also accused Mackay of overspending in the transfer market and announced the manager would have nothing to spend in the January window.
The 41-year-old Scotsman refused to resign, and subsequently led the team in Premier League matches against Liverpool and Southampton before his dismissal.
"It is a new era in British football and Cardiff is an example of it," Wenger said on Tuesday.
"Certainly the trend over the last 10 years has seen there to be less power for the managers now and more power for more interfering for what is above the manager.
"Is that a good thing? For me, no. In the long term certainly not because it creates more instability and instability creates less quality people in the jobs."