Tottenham's Emmanuel Adebayor 'unstoppable', says Tim Sherwood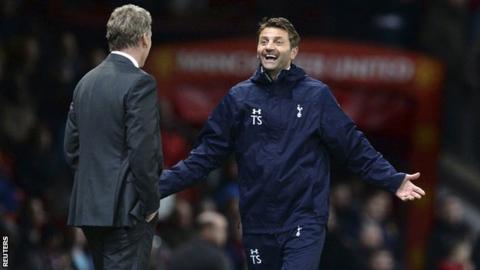 Tim Sherwood expects Emmanuel Adebayor to play a key role for the rest of the season after he kept up his impressive form in the win at Manchester United.
Striker Adebayor, 29, made it four goals in five games with the opener in the 2-1 triumph at Old Trafford after being exiled under Andre Villas-Boas.
"When he performs as he is at the moment he's almost unstoppable," said 44-year-old Spurs boss Sherwood.
"I have no reason to believe he will not keep it going."
United began the brighter but went behind towards the end of the first half after Adebayor rose expertly to guide in a header.
The Togo international was then taken off on a stretcher in the aftermath of Christian Eriksen's close-range header for Spurs' second, which proved vital as they held off a late surge from the home side after Danny Welbeck's smart finish.
United manager David Moyes was left fuming after the game at a number of decisions from the referee and Sherwood admitted the hosts could well have had a penalty, but the Spurs manager now has to deal with another addition to his injury list.
"At the moment he [Emmanuel Adebayor] has ice on every part of his body so we can't tell what's wrong with him," Sherwood said.
"He just runs all day long, he tries hard for the team, but it's hard to single anyone out. We've got nine players injured so we're having to go at it with a very small squad at the moment."
Adebayor trained on his own under Villas-Boas, and has also subsequently accused the club of disrespecting him when he was not included in their official photograph this summer.
However, he has featured prominently since the Portuguese was sacked a fortnight ago and Sherwood was named as his replacement.
Adebayor's form contrasts starkly with the return of his fellow Tottenham front men.
Summer signing Roberto Soldado has scored five goals in 18 Premier League games but only one of those has been struck in open play, while Jermain Defoe is yet to register in the top flight this season in 12 appearances.
Sherwood insisted he had "heard nothing" about reports linking Defoe with a move to play in Major League Soccer in North America, and the boss added he hoped to use younger players rather than buy new ones in the January transfer window to supplement his injury-affected squad.
"When we have got everyone fit, we don't need any players," he said. "You have to give these guys long-term contracts, so unless it was someone who was going to make the squad better, I'd rather go with the kids."
The win against United moved Tottenham into sixth place in the table. They next play north London rivals Arsenal in an FA Cup third-round tie on Saturday.