Chelsea win vindicates Jose Mourinho over Juan Mata

By Phil McNulty
Chief football writer
Last updated on .From the section Football922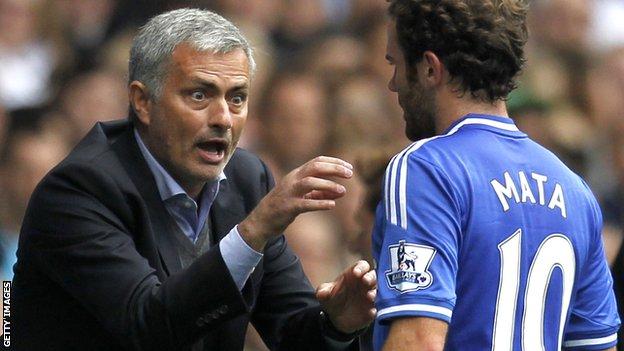 The giant flashing scoreboard at St Mary's provided Chelsea manager Jose Mourinho with the most robust armour available against any complaints from the rain-soaked and marginalised figure of Juan Mata.
Mata has taken his move to the periphery at Chelsea this season with as much dignity as can be reasonably expected from a world-class performer, the player of the year in his two seasons at Stamford Bridge, who is suddenly no longer the automatic choice.
In fact Mata has been the model of good grace - but the slow, resigned trudge past Mourinho after a frustrating 53 minutes at Southampton offered evidence that perhaps the patience has now worn thin.
Eyebrows were raised among Mata's many admirers, especially with the scoreline blank and Chelsea in need of something more than a blunt instrument to break down an energetic Southampton side that just seems to be running a little short of gas.
Fast forward 37 minutes to a comfortable Chelsea victory, inspired by the replacement of Mata and Andre Schurrle with Oscar and Willian, and Mourinho had offered up his answer to any dissent Mata might have wished to offer.
This is a thorny one for Chelsea fans. Mata, with good reason, is a favourite son of Stamford Bridge - but no-one tops Mourinho in their affection and trust.
To revisit an old subject, if Rafael Benitez had excluded Mata there might have been protest marches down Fulham Broadway. Mourinho's law is more readily accepted, especially when it comes with a victory.
After the match the Blues boss made it clear, several times, that he does not wish to see Mata leave Chelsea. The message was emphatic, although the rider that his and the club's door was always open appeared to offer the tiniest wiggle room to clubs such as Paris St-Germain, who take a keen interest in the Spaniard.
Much will depend on whether Mata is prepared to bide his time and show patience at the start of a World Cup year or whether he now has serious doubts about his place in his club manager's plans.
At Southampton on Wednesday, he could have no complaints.
Mourinho is a master of the opportunist switch. Who could forget how he crucially slipped substitute Luka Modric into Real Madrid's Champions League win at Manchester United last season when Sir Alex Ferguson was too busy raging at the gods following Nani's red card?
He was at it again here, reacting quickly after the opening moments of the second half and seeing Oscar and Willian act as the catalysts for this ominously efficient and classy 3-0 win.
Oscar was right at the centre of the action immediately, booked for diving over Southampton keeper Kelvin Davis's leg, before brilliantly setting up a second for Willian then applying the final gloss himself.
It was almost fate that Mourinho would be involved in a diving debate after his fierce criticism of Liverpool striker Luis Suarez's "acrobatics" at Stamford Bridge over the festive period.
Those hoping the Portuguese might employ double standards were to be disappointed as he praised referee Martin Atkinson for showing the young Brazilian the yellow card - although it was accompanied by an explanation that Oscar was expecting to be "smashed" by the keeper and was surprised when he was not.
His side's win made it 10 points out of 12 over the holidays and added to a growing sense of momentum surrounding Mourinho and his team.
He once again tried to sell the "we are not title contenders" line but no-one is buying and it would be a shock if Mourinho himself was. It is not in his nature to enter the Premier League with a team he does not seriously believe is in contention to win it.
There is a grain of truth in the argument that this is a title for Manchester City to lose and Mourinho cast an eye to the future when he said: "I know what we are building. I know next summer will be a moment for us to go to a couple of clinical buys and improve our team in that direction.
"In this moment we work to improve and we try to bring people like Eden Hazard, Willian and Oscar to a different level of playing football and I think we are doing that quite successfully."
Mourinho and several members of this team, including a seemingly revitalised John Terry, have ridden successfully over this course and distance before. The Portuguese has plotted the course successfully and he will fool none of his rivals by publicly playing down his title hopes.
He did not hint at serious incoming business at Chelsea in this month's transfer window but it remains to be seen whether the stated desire to hang on to Mata is tested fully.
Chelsea's fans may be sorry to see him go but they accept Mourinho's judgement as law and victories like this only strengthen that belief.