Premier League: 2013 in numbers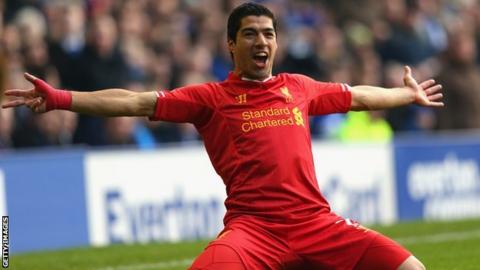 Thirteen Premier League titles, 27 years, 1,500 matches managed at Manchester United - Sir Alex Ferguson's retirement was the biggest story of the year.
But what else happened in 2013?
English football said goodbye to Gareth Bale and hello again to Jose Mourinho, while Luis Suarez provoked plenty of headlines - good and bad.
Statisticians Opta have crunched the year's numbers for us.
Simply the best
Manchester United may have lifted the Premier League title in May but if the season ran over a calendar year Arsenal would be champions. They won 25 of their 38 games in 2013 to finish five points ahead of Manchester City, who played a game less. Chelsea were third with Manchester United and Tottenham in fourth and fifth respectively.
Liverpool just pipped Everton to sixth spot by two points with the Toffees the year's seventh best team.
Of the teams that played a full year, Sunderland were the worst with 31 points, three worse than Stoke and West Brom.
2013 Premier League table
Pos
Team
P
W
D
L
F
A
GD
Pts
1
Arsenal
38
25
7
6
70
34
36
82
2
Manchester City
37
24
5
8
82
36
46
77
3
Chelsea
38
23
8
7
71
40
31
77
4
Manchester United
37
22
8
7
68
37
31
74
5
Tottenham Hotspur
37
20
10
7
52
44
8
70
6
Liverpool
37
20
9
8
84
40
44
69
Goals, goals, goals
If you wanted to be entertained then Liverpool were the team to follow in 2013. They netted 84 goals in 37 games, two more than Manchester City. Manchester United, so often the league's best attackers, only managed 68 - the sixth best tally.
Liverpool could have been celebrating a century of goals had they not hit the woodwork 24 times, six more than the next highest, Manchester United.
Relegated Wigan were one of the best teams for shooting accuracy. They were second only to Arsenal when it came to making the most of their chances - 49.46% of their efforts troubled the keeper but only 13% found the back of the net.
QPR, who went down along with Wigan, were the most wasteful. They only managed to get 35.58% of their efforts on target.
Manchester United were the most clinical team, scoring 17.94% of their chances with Manchester City scoring 17.41% and Arsenal 17.2%.
Recently installed Crystal Palace boss Tony Pulis and Cardiff's new manager Ole Gunnar Solskjaer do not need to look far to see how they can improve. Both clubs have a conversion rate of less than 10%.
The big turn-offs
Stoke were the team thrillseekers needed to avoid, with the Potters managing only 31 goals in 37 matches. Norwich did little better on 34 goals with Sunderland (35) also struggling for firepower.
Everton played out eight goalless draws, the most in the league, closely followed by West Ham on seven. Manchester United had only one 0-0 draw - against Chelsea in August.
Manchester City kept the most clean sheets with 18 in their 37 games. Everton (17) were also tight at the back while Arsenal, sometimes criticised for a perceived leaky defence, denied rivals on 15 occasions, one more than Manchester United.
Fulham's defence was the worst, shipping 65 goals in 37 games, with Sunderland letting in 60. Everton were the meanest at the back, conceding just 33, while Arsenal's backline was breached 34 times.
Wigan, who played 18 Premier League games in 2013, conceded 38 goals - more than Manchester United (37) and Manchester City (36) did in 37 games apiece.
King of the goals
Luis Suarez has been the outstanding performer in 2013. He netted the most goals - 29 - a figure all the more remarkable when you consider he was banned for 10 games for his attack on Branislav Ivanovic.
Romelu Lukaku is the second-top scorer in 2013 with 20 goals despite spending the year on loan, first with West Brom and then Everton. Liverpool's Daniel Sturridge was the top English scorer with 19 goals. Wayne Rooney was on target 14 times.
Suarez got his rewards for shooting on sight. He had 126 shots - 34 more than his closest rival Olivier Giroud. Southampton's Jay Rodriguez was another striker keen to try his luck. His tally of 85 shots was bettered only by Suarez, Giroud, Lukaku and Sturridge.
But while Suarez was the year's top scorer, he was not in the top 10 for the goals to chances ratio. Arsenal's Lukas Podolski headed this list with eight goals coming at a conversion rate of 44.44%. Reading's Adam Le Fondre, frequently used as a substitute, was second. His seven strikes arrived at a 38.89% conversion rate.
Two defenders make the top 10 with identical records. Both Everton full-back Seamus Coleman and Chelsea central defender John Terry netted five times with a conversion rate of 27.78%
Newcastle pair Loic Remy and Yoan Gouffran are also players you would want the ball to drop to in the box, with both men slotting home one in four of their opportunities.
Paying the penalty
Suarez did not even have the advantage of taking penalties at Liverpool, with Steven Gerrard holding that role. He finished the year as the league's equal top scorer from the spot with five goals, along with Sunderland's Craig Gardner.
Helped by Gardner's accuracy, Sunderland converted all six of their penalties but Stoke came up woefully short from the spot with the Potters missing three of their six efforts from the spot. Chelsea failed to convert two of their eight. Wigan and Cardiff were the only teams not to win a spot kick in 2013.
The creators
Wayne Rooney topped the assists charts. He provided 12, three more than Eden Hazard and Gerrard, who were joint-second.
Suarez teed up his team-mates eight times, equalling Theo Walcott, David Silva and Santi Cazorla.
Liverpool midfielder Jordan Henderson and Southampton frontman Rickie Lambert, more renowned for his goals than his creative ability, each set up seven goals.
As did Mesut Ozil, despite the fact he only joined Arsenal in August.
Manchester City's Silva created 96 chances. Gerrard, meanwhile, delivered 82 scoring opportunities.
West Ham winger Stewart Downing has created 74 chances - the sixth best in the country. Norwich's Robert Snodgrass also excelled in setting up 68 chances, while Leighton Baines confirmed his reputation as an attacking force from full-back by providing 64 opportunities for Everton.
Arsenal's Aaron Ramsey tops the successful passes list with 2,168, while team-mate Mikel Arteta completed 1,723. Stoke's Steven N'Zonzi delivered the ball to team-mates 1,625 times, two more than Swansea's Ashley Williams. The Swans also have the third top passer, with Jonathan De Guzman just shy of the 2,000 mark.