Andy King says Northampton chairman will not let club go down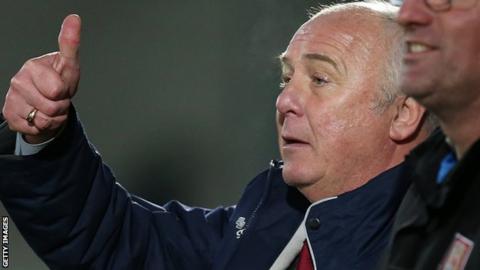 Caretaker boss Andy King is confident whoever becomes Northampton Town's new manager will be given the funds to keep the club in the Football League.
BBC Radio Northampton understands that interviews have taken place with a small number of candidates.
King said: "[Chairman] David Cardoza will give a manager backing and whoever gets that position is lucky.
"He will not allow the club to go down. I'm in a difficult seat but I've got the seat and I'm grateful for that."
King, 57, has been in temporary charge at Sixfields since Aidy Boothroyd was sacked just before Christmas.
They have one draw and one defeat since then and remain bottom of the League Two table ahead of Saturday's trip to Newport.
King wants the job on a full-time basis, but realises he is being assessed differently from other applicants.
"They're being judged on CVs and how they smile. It's unlucky for me because it's three away games that I'll be judged on," he said.
"The players are growing in confidence but we need a victory badly to keep us in the pack and to get them to believe in what you're saying.
"We're not winning games and we're in a precarious position."
Meanwhile, Luke Norris, who scored five goals for the Cobblers on loan from Brentford, has returned to Griffin Park early after sustaining a dead leg in the draw at Portsmouth.
And King says he would not have moved Norris to the substitutes bench after the defeat to Hartlepool, which Boothroyd did.
"I wouldn't have left him out of my side," said King. "I brought him straight back in.
"I don't think it did him any good, leaving him out, because it put doubts in the mind. His attitude was good, he was a nice kid, and we'll see what happens if I get the job whether we go back in for him."
Defender Matt Heath has also left the club at the end of his short-term deal after making seven appearances.
And forward Roy O'Donovan is heading to Dubai this week to discuss a move to a club there.
The 28-year-old, who only signed a two-year contract in June, currently has an ankle injury, having only just returned from surgery on a double hernia.
"If it favours him, I'm all for that and I'll move on to the next situation," said King. "They'll make a decision on the 8 January and if he wants to go, I'll speak to the chairman."