Malawi clubs banned after crowd violence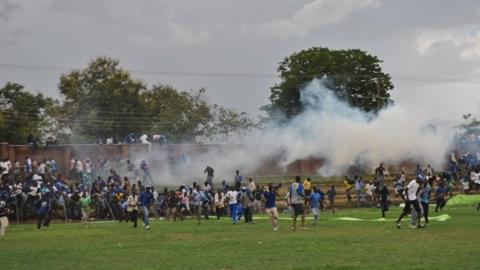 Malawi clubs Mighty Wanderers and Silver Strikers have been banned following the crowd violence at their league match on 28 December.
One fan was killed and 20 injured at the stadium in Balaka, and the match was abandoned.
Silver Strikers have been suspended for eight months and fined $6640.00, while Mighty Wanderers have been banned for five months and fined $1620.00.
The clubs can appeal upon payment of $1046 within 48 hours of the ruling.
The Super League of Malawi disciplinary committee found both clubs guilty of "failure to control the actions of their supporter's contrary to Fifa's disciplinary code... thereby bringing the game of football into disrepute."
Silver Strikers were also found guilty of inciting violence which led to the abandonment of the match in the 61st minute, while Mighty Wanderers FC "failed to provide adequate security to the visiting team as well as the spectators".
In a statement, the Super League of Malawi added that the punishments have been made tough because the two teams are repeat offenders.
The governing body has also ordered the sides to replay the match behind closed doors, no later than 4 January, before their bans commence.
However, Silver Strikers have indicated they will only play the game if it resumes at the point it was abandoned, when they were leading 1-0.