Callum Wilson: Coventry striker to see specialist over shoulder injury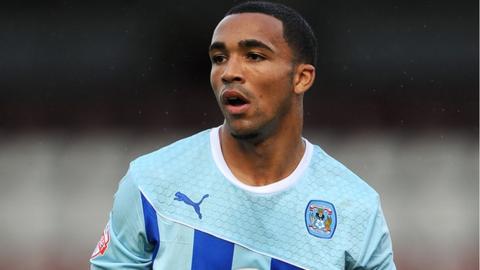 Coventry City striker Callum Wilson is to see a specialist after the shoulder injury he suffered on New Year's Day.
The 15-goal striker, 21, was taken off 12 minutes from time after being injured in the 3-1 win at Rotherham.
Wilson, who has already been ruled out of Saturday's FA Cup third-round tie at Barnsley, will visit a specialist in Manchester on Thursday for a scan.
City have better news of midfielder Conor Thomas, who spent a night in hospital with severe concussion.
Thomas sustained a serious head injury late on at the New York Stadium, which led to 14-and-a-half minutes added time being played.
But scans have revealed that there is no fracture to his cheekbone and he was released from Rotherham General Hospital on Thursday morning.
Thomas, who has also been ruled out of Saturday's cup tie, said on Twitter: "Not a great way to start the year. Nothing serious, just bad concussion apparently. Can't remember a thing.
"Hopefully Callum Wilson is all right and his shoulder isn't too bad, fingers crossed.
"Gutted for him. Hopefully, it's not the same problems he's had before with his shoulder.
"Going to get home stay in bed and see how I feel in the next few days."