Guernsey FC star Ross Allen downplays six-goal haul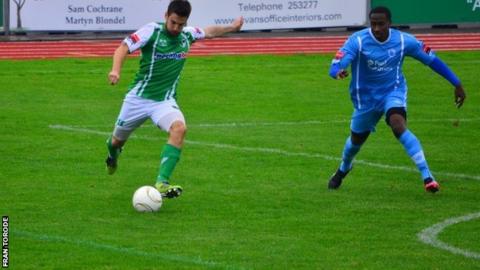 Guernsey FC striker Ross Allen said the whole team deserved the credit despite his six goals in a club-record 11-0 win over Crawley Down Gatwick.
The prolific forward is closing in on 150 goals for the club in two-and-a-half seasons.
"It's a cracking win but it's the way we played as a team that was so pleasing," he told BBC Guernsey.
"We were fantastic right through the team and to get a clean sheet is just as pleasing as the number of goals."
Allen had wrapped up a hat-trick by half-time at Footes Lane, with Glyn Dyer adding a brace for a 5-0 lead at the break.
Another three goals followed in the second half for Allen, while Nigel Hutton, Marc McGrath and Ryan-Zico Black - fresh from scoring at the Maracana in a charity game just three days before - completed the rout which took them into the Isthmian League Division One South play-off places in fifth.
"Our goals-to-attacks and goals-to-shots ratio was fantastic and the confidence we can take from the game is brilliant," added Allen.
"We played really well. Take away the opponents, because obviously they weren't the strongest side we've played recently, but we did a lot of things right and everything fit into place.
"We've been trying to get back after a few dodgy results and everyone was really hungry and trying to put the game to bed as soon as possible."
Green Lions boss Tony Vance said Allen's success was testimony to the club's aim of exposing the players from the island to a higher standard of football.
"Knowing Ross, he's probably cross he didn't get seven," he added.
"He was very hungry and ruthless and just keeps scoring for fun. As we step up the leagues we keep producing and that just shows what a fantastic talent he is.
"Giving him the opportunity to be exposed at this level of football is fantastic and has pushed him up a notch."
Vance said the one-sided scoreline was partly as a result of a major changes at Crawley Down Gatwick.
"It was a bizarre game really," he added.
"They've got a few problems and a new manager has just come in and signed a new group of players and it's a very young unit," he said.
"We were going through a rocky spell but now that's three home wins in a row."