Wilfried Bony dedicates Swansea goals to friend who died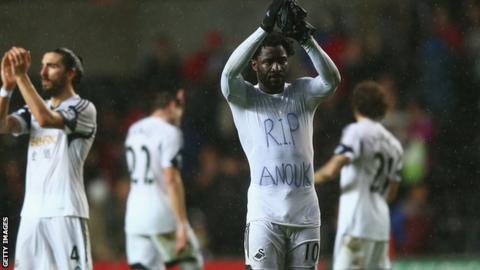 Swansea striker Wilfried Bony has revealed that he dedicated his two goals against Manchester City on New Year's Day to a friend who died from cancer.
The Ivory Coast international took off his shirt after the 3-2 defeat to reveal a message that read "RIP Anouk".
Bony said his friend from the Netherlands had died before Christmas.
"I lost my friend, she had cancer," said Bony, who has scored 12 goals for the Swans so far this season.
"She died last week. She is from Holland and it was for her I scored.
"It was good for me, because I wore the T-shirt in the last game and I didn't score because she died before that game.
"It happened before Aston Villa and I wore it again and I wanted to score and I scored two goals.
"The goals are for her."
Bony is Swansea's record buy, signing a four-year contract when he arrived in a club-record £12m deal from Dutch top-flight side Vitesse Arnhem in the summer.
The striker, who scored 31 goals in 30 games for Vitesse last season, has scored 12 times for Swansea in all competitions.
But despite the loss of fellow striker Michu and winger Nathan Dyer to ankle injuries, Bony denies that he is under pressure to be the main source of Swansea's goals.
"It's not about pressure, I try to play my normal game and every game a striker wants to score.
"When you have a chance and you do not score, it gives you stress.
"I try to do the same, try to get better and I hope it will continue like this."
He added that he would not use the challenge of adapting to life in the Premier League as an excuse if his performances fall short of what is expected.
"I am not new here, it has been 15 or 16 games here and it's not about adapting," said Bony.
"As a striker if you score, it always gives you confidence, but we are a team and we have to take the points and that is more important."