Cardiff chairman apologises to fans for off-the-field 'noise'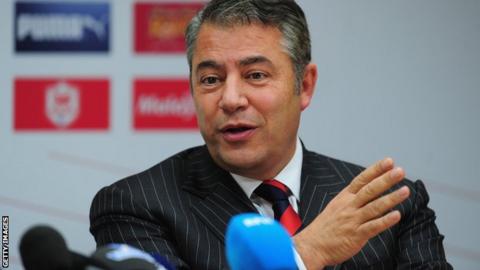 Cardiff City chairman Mehmet Dalman has asked fans to "forgive" the club for recent off-the-field "noise".
He also urged them to get behind new manager Ole Gunnar Solskjaer.
The Bluebirds have been at the centre of a public row between the club's owner Vincent Tan and Solskjaer's predecessor Malky Mackay.
"I hope you'll forgive us for that and put some trust in us to build this club to what I think it can be built into," said Dalman.
"This club has huge potential but it all has to start at the football pitch. So less noise about non-football and a lot of noise on the football pitch."
The Cyprus-born merchant banker, who was appointed chairman in July, said he was sorry for the "agony" Cardiff supporters had been put through caused by off-the-field stories and speculation surrounding the club.
"I sincerely apologise for that because that was never our intention," said Dalman.
Mackay was sacked the day after the 3-0 defeat to Southampton on Boxing Day.
His dismissal followed months of rows with Tan.
The Malaysian billionaire claimed Mackay had overspent on transfers following their promotion to the Premier League and announced that the 41-year-old Scot would have nothing to spend in the January window.
But Solskjaer, who has agreed a 12-month rolling contract, will be given significant funds by Tan to spend on new signings.
Dalman says the 40-year-old former Manchester United striker has told him about players he wants to bring into the club.
"He knows what he wants and yes we have discussed all that," said Dalman. "The first and only objective is to remain in the Premier League."