Former FA chairman David Bernstein under fire from LMA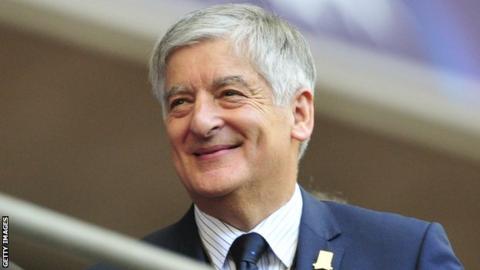 Former Football Association chairman David Bernstein has been criticised for accusing club bosses of setting a "terrible example" to players.
The League Managers' Association said Bernstein's comments were "misguided, unhelpful and inflammatory".
Bernstein, 70, spoke out after being made a CBE in the New Year Honours.
The LMA statement added: "It's particularly sad to find him celebrating his CBE by engaging in a megaphone commentary."
The former Manchester City chairman said managers were harassing officials and were being too critical of referees after matches.
"I have been involved with football for a long time and I do understand the pressures they are under," Bernstein said.
"But when you look at the constant protesting on the touchline and the comments afterwards, it doesn't do anyone or the game any good."
Everton manager Roberto Martinez agreed with the LMA that Bernstein was out of order.
"I think it is very cheap to talk about the behaviour of managers unless you have been in that position," said Martinez.
But Arsenal boss Arsene Wenger said the ex-FA chief was right and that he, too, needed to improve his behaviour on the touchline.
"I go along with that and I have some work to do on that front as well," said the Frenchman, who has been in charge of the Gunners since 1996.
The LMA, which represents current and former professional managers, defended its members from Bernstein's accusations.
It accused Bernstein of "taking a unilateral swipe at managers, having wholly failed to engage, in any meaningful way, with the LMA and its members during his tenure as FA chairman".
The statement continued: "Had he engaged with the LMA, his leadership would have been rather more effective and focused.
"The LMA looks forward to an engaged and constructive dialogue with the new chairman of the FA, especially as David Bernstein failed to attend a single formal managers' meeting to discuss any such issues in the game or build any kind of meaningful relationship with our members."
The LMA also labelled Bernstein's criticism as "inflammatory", adding that it "can only tend to bring the game into disrepute and further widens the gap between those that reputedly lead the game and those that find employment and build their careers within it".
Bernstein took over as FA chairman in 2011 but was forced to relinquish the post when he reached 70, under the Association's rules.