Torquay United: Former boss Martin Ling seeks return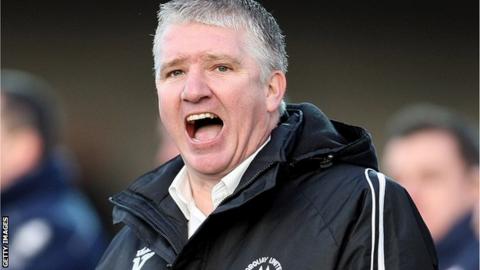 Former Torquay boss Martin Ling says he will be applying for the vacant managerial post at Plainmoor in the wake of Alan Knill's sacking.
Ling, 47, was in charge of the Gulls from June 2011 but left - ultimately to be replaced by Knill - after a stress-related illness.
"I feel I have unfinished business there and nothing's changed my mind," he told BBC Radio Devon.
"I'll be putting my CV in and I'd like to go back there to manage the club."
Ling, who is now a scout for League One side Walsall, was absent from the club from January 2013 because of the illness, with Knill initially brought in on an interim basis in February.
Knill was handed the job on a permanent basis at the end of the 2012-13 season, having saved Torquay from relegation, with Ling subsequently accusing the club of being "unprofessional" in their treatment of him.
But the former Leyton Orient and Cambridge boss said his knowledge of the club would be a huge asset as the Gulls seek to avoid a return to non-league football.
"Well, it's easy for me to say but I think I tick an awful lot of boxes," he said.
"By working there before I know it's a club that would be bottom of the budgets in League Two. I know 75% of the players that are there and I know more about the job than anyone else.
"They have five players out of loan. My advice would be get those players back. You need people with Torquay blood going through them.
"The day-to-day involvement is always difficult to be without. The buzz of the dressing room is the big miss.
"They need someone with a bit of experience who knows the place and can do the job as quickly as possible.
"Someone needs to get the team up and running and full of confidence and get away from the bottom of the league. The longer they wait to appoint a successor, the worse it will be for the club."