Southampton's Mark Clattenburg complaint is dismissed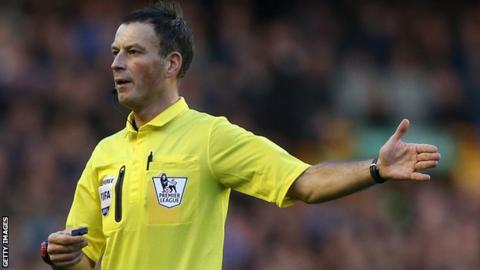 Southampton have reacted angrily to the Premier League's decision to dismiss their complaint against referee Mark Clattenburg.
Saints accused Clattenburg of insulting Adam Lallana after the player challenged his decision not to award a penalty during a 2-1 defeat at Everton.
The official is believed to have told skipper Lallana: "You're very different now you've played for England. You never used to be like this."
Saints say the issue is not over.
"An official insulting any player, no matter his intentions, is clearly not acceptable behaviour," spokesman Jordan Sibley said.
"For this reason, we do not accept the verdict in relation to this case and do not consider the matter to be over.
"Under the circumstances, we do not feel it appropriate for Mr Clattenburg to officiate in any of our matches until this matter is properly resolved."
Southampton believe Lallana was subjected to a "personal insult" in the game on 29 December after Clattenburg waved away two appeals for a late penalty, with one incident involving the England midfielder.
The Professional Game Match Officials Ltd (PGMOL), responsible for selecting which referees officiate at Premier League matches, said in a statement that Clattenburg had no case to answer.
It read: "PGMOL is committed to constructive dialogue and communication with clubs, managers and players.
"On 31 December, PGMOL received a letter from Southampton who raised concerns about the conduct of Mark Clattenburg following their game with Everton on 29 December.
"In a written response to Southampton, PGMOL acknowledge that their complaint has been considered in full.
"However, given the nature of the conversation with the player, having reviewed the footage and spoken to the team of officials as well as the Premier League match delegate, it has been found that there is no case to answer.
"Mark has the full support of PGMOL management and will be considered for selection for all and any matches going forward in the usual way."
Clattenburg will take charge of the FA Cup third round tie between Arsenal and Tottenham on Saturday.
Earlier on Friday, Gunners boss Arsene Wenger said he had no problem with Clattenburg following Southampton's complaints.
Wenger said: "I'll be disappointed if he isn't referee. As long as you're not judged guilty, you're innocent.
"I personally have no problem with Mark Clattenburg refereeing the game tomorrow."
Tottenham manager Tim Sherwood feels that the relationship between officials and players has changed since he retired from playing in 2005.
He said: "Years ago you were able to have a little bit of banter with referees and perhaps that has been taken out of the game but I'm up for the banter.
"I like it from the side with referees, appreciate they have a difficult job and sometimes you say things on the spur of the moment and that comes out in every walk of life."
Everton boss Roberto Martinez said: "I thought Mark Clattenburg had a very good game in terms of controlling the players and showing a great manner, and I'm quite surprised."
Saints assistant manager Jesus Perez, whose side entertain Burnley in the FA Cup third round on Saturday, said: "I won't talk about this situation, I prefer to stay away from this and just focus on the game."
In November 2012, Clattenburg was cleared by the Football Association of using "inappropriate language" towards Chelsea midfielder John Mikel Obi after claims he had directed racial language at the Nigerian.