Fratton Park: Portsmouth presidents in cash injection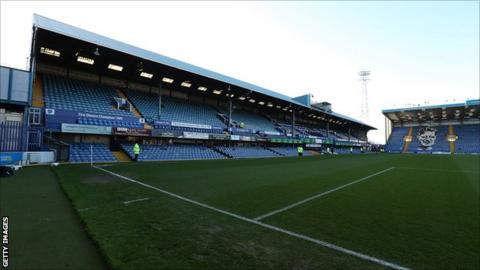 Portsmouth hope to return to a capacity of 20,000 at Fratton Park after receiving a cash injection of around £500,000 from their 11 presidents.
The club is 52% owned by the Pompey Supporters' Trust, with the presidents making up the remaining 48%.
The money will help with urgent ground improvements - which the club hope will see them increase capacity.
"We want to get as many people inside Fratton Park," PST board member John Kimbell told BBC Radio Solent.
"While we are not selling out at the moment, we hope that as soon as we start seeing an improvement on the pitch those attendances will go up, We've got some big games coming up and every seat is important."
The League Two club, whose average attendance this season has been 15,398, have been operating on a reduced capacity since the start of the season after Portsmouth City Council, the licensing authority, came up with a list of urgent improvements the club needs to undertake.
The works - scheduled to begin later in January - include the installation of a sprinkler system in the North and South stands and upgraded electrical systems around the stadium.
Kimbell added: "Things are not standing still and this is further proof that we have strong backing from our presidents.
"Everyone knows the work is long overdue throughout the ground to correct many of the problems people encounter on match day."
The contribution from the presidents was unanimously accepted by the PST board, and chairman Ashley Brown, said: "The PST has worked very closely with our presidents since the early days of our efforts to buy the football club.
"I continue to be impressed with their dedication to the cause, both with the provision of their experience but also now further financial backing."
Fratton Park is owned by the PST, while land around the ground is owned by developer Stuart Robinson, who is also a club president.
Plans for a supermarket store behind the ground are currently being considered.
These are yet to be submitted, but if approved will lead to a total redevelopment of the stadium and area around it.
Meanwhile, midfielder Thery Racon has extended his Pompey contract until the end of the season.
The 29-year-old midfielder returned for a second spell at Fratton Park in October, signing a short-term deal.
But the Frenchman will now stay for the remainder of the campaign, having already made 10 appearances this term.