Ghana's Waris and Algeria's Medjani join Valenciennes on loan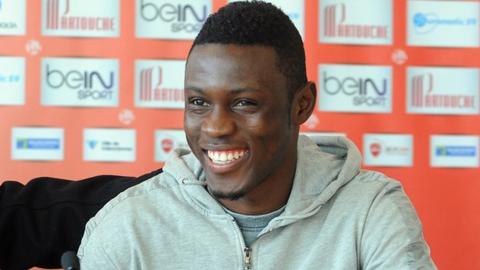 Ghana striker Abdul Majeed Waris and Algeria's Carl Medjani have joined French Ligue 1 side Valenciennes on loan until the end of the season.
Waris' Russian side Spartak Moscow on a winter break until 8 March he wants regular football to boost his chances of playing at the World Cup in Brazil.
"It's the right step that should help me stay in great shape," Waris (pictured) told BBC Sport.
"Being a World Cup year it's very important to be playing regular football week in, week out.
"And coming to France will be very competitive because I've come to a club with strong ambition to stay in the top-flight and improve their position."
Medjani is currently on the books of Monaco but the 28-year-old will actually move from Greeks Olympiakos, where he has been on loan since the beginning of the season.
Valenciennes are currently 18th in Ligue 1, three points adrift of safety and in a desperate battle to avoid relegation from the top-flight.
Waris, who made his international debut in February 2012, has scored three goals in six appearances for the Black Stars as they secured a third successive World Cup qualification.
But the 22-year-old knows he has to stay active during the break if he is to secure a place in his country's squad for the 2014 World Cup.
"I thank Spartak for allowing me come somewhere I can get regular chances and impress the national team boss," said Waris.
"I want to play in my first World Cup with Ghana and to achieve that I know I have to keep playing and competing like others.
"You don't just hope and pray to get anything in life, you have to work hard to give yourself a chance of making it.
"Hopefully, I can make the right contributions to the squad here and together we can lift Valenciennes.
"I just can't wait to get started here."
Waris was named the Swedish Premier League's player of the year 2012 after scoring 23 goals in 29 games for BK Haken.
In November 2012, Waris, who had been linked to English Premier League sides Everton and Chelsea, joined nine-time Russian champions Spartak Moscow.
He missed the last month of the 2012/13 Russian season because of a knee problem but has bounced back to earn a recall to the Black Stars.