Manchester United winger Ashley Young out with shoulder injury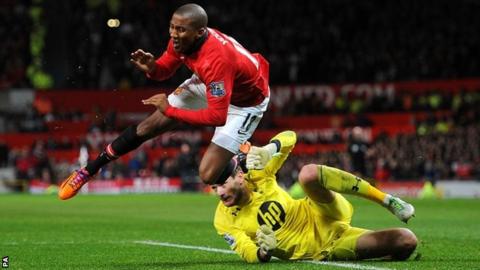 Manchester United's Ashley Young is set for a spell on the sidelines after injuring a shoulder in a challenge with Tottenham goalkeeper Hugo Lloris.
United boss David Moyes said England winger Young, 28, would be out "for a time" but unsure exactly how long.
Moyes was angry his side were not given a penalty for the tackle that felled Young during United's 2-1 defeat to Spurs on New Year's Day.
He claimed Howard Webb's decision not to award a spotkick was "scandalous".
Moyes added: "It's an incredible decision, in fact probably one of the worst I think I saw. If you follow through on a player anywhere else on the pitch with your foot high, it would be a red card."
Moyes was unable to offer an update on the fitness of striker Robin van Persie, who has missed the last six matches with a thigh injury.