Aston Villa: Paul Lambert FA Cup comments 'shock' John Gregory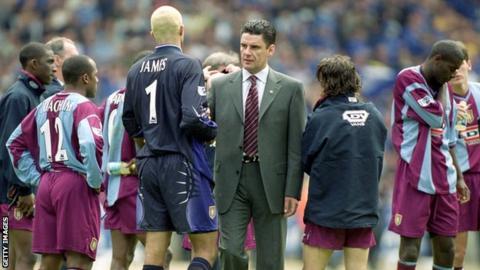 Former Aston Villa manager John Gregory is "shocked" by current boss Paul Lambert's claim that Premier League clubs could do without the FA Cup.
Lambert said "survival" in the Premier League was the priority and top-flight managers could do without the cup "if they were being honest".
"To stay in the Premier League is more important to any Premier team," Gregory told BBC Sussex.
"But to say that the FA Cup is a pain in the backside, I'm quite shocked."
Gregory, who returned to English football a month ago as manager of League One side Crawley, has twice reached the FA Cup final during his career.
He did it first as a player in 1982 with Queens Park Rangers, losing to Tottenham Hotspur in a replay, thanks to Glenn Hoddle's winning penalty.
As a manager he was then also on the losing side with Villa in 2000, when they went down 1-0 to Chelsea, keeper David James's late error allowing Roberto di Matteo to net the winner in a disappointing final.
But to 59-year-old Gregory the FA Cup has always had a magical lure.
"The FA Cup was my childhood," he said. "The Cup final was always the biggest game of the season.
"It's why I wanted to be a footballer, because I wanted to play in the FA Cup final.
"I'm a big fan of Paul Lambert's. I know what he's been trying to do at Aston Villa and the difficulties he's had with some of the players who haven't performed, who he inherited, that he didn't want anywhere near the club, who he couldn't get rid of.
"But I have to say that I was shocked by his statement."