Ole Gunnar Solskjaer expecting 'tough' first game as Cardiff boss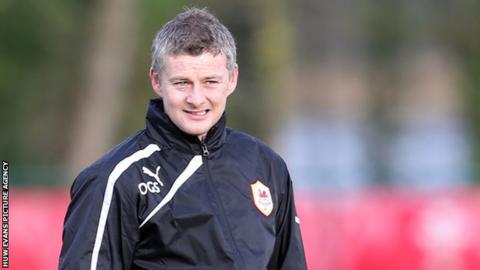 Cardiff City's new manager Ole Gunnar Solskjaer is expecting a tough first game in charge at Newcastle in the FA Cup third round on Saturday.
The Norwegian was appointed Cardiff boss on Thursday with his side one point above the Premier League relegation zone.
Solskjaer says Newcastle have been "impressive" so far this season.
"We'll have a tough game on our hands but we'll give it a go," said Solskjaer.
Newcastle are currently eighth in the Premier League and have already beaten the Bluebirds this season.
Cardiff are just one place above the relegation zone, having won only one of their last 10 matches.
Even though Premier League survival is Cardiff's priority, Solskjaer - an FA Cup winner for Manchester United against Newcastle in the 1999 final - says the competition is important for the Bluebirds.
"We know how close Cardiff were to lifting the trophy a few years ago," said Solskjaer.
"I've been to St James' Park and played up there a few times. It's going to be a great atmosphere.
"We'll go in there hoping to go through to the next round.
"The Premier League is very important but when you have the FA Cup it's the chance to build momentum."
Solskjaer, who took his first Cardiff training session on Friday, is hoping his players quickly take on board his attacking philosophy, starting against the Magpies.
But the 41-year-old says he will not abandon the side's defensive qualities and hard-work ethic put in place by his predecessor, Malky Mackay.
"There's always a desire to play attacking football but first and foremost you need to have the foundation to be able to earn the right to play," said Solskjaer.
"The lads here have a great attitude, work rate, team shape's been good.
"Now it's about releasing, giving them confidence 'lads have a go'; we'll have to because we are in the Premier League.
"Of course it's a period of transition early on but we've got to try to implement our ideas as quickly as possible."