'Top English clubs interested in Steven Fletcher', says agent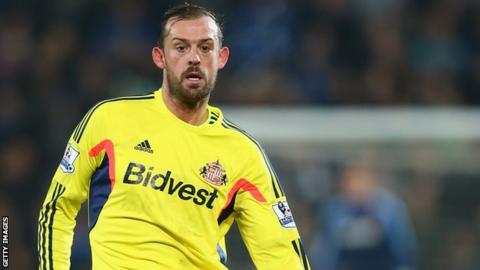 Steven Fletcher's agent says there has been no approach from Celtic regarding the Sunderland striker but claims there is interest from top English clubs.
Celtic manager Neil Lennon admitted on Friday that at a price his club could afford.
"There has been no contact from Celtic regarding Steven Fletcher," Scott Fisher told BBC Scotland.
"There is also interest from other English Premier League clubs."
Fletcher, capped 13 times for Scotland, was sold to Sunderland by Wolves for £14m in 2012.
Injuries have restricted his first-team starts this season and he has scored three goals in 18 appearances.
Fletcher has been in and out of the starting 11 since Gus Poyet replaced Paolo di Canio as manager, but the Scot's agent said: "He is still a Sunderland player until they decide otherwise."
Indeed, responding to the reported interest from Hull City as well as Celtic, Poyet said he had no desire to sell the man he regards as the top goalscorer at the club and one capable of helping them avoid relegation.
The Sunderland manager was quoted as qualifying that with the admission that any of his players would be available should he receive a bid of £25m-30m.
"They didn't call me and they didn't make any offers, so it is speculation, rumours," the Uruguayan said, joking that he was similarly interested in Real Madrid's Cristiano Ronaldo.
"It's easy. I am interested in Ronaldo. Apparently, he doesn't want to come to Sunderland - it's too cold.
"We can say and talk and make opinions and go on TV and make it look incredible, that we want to buy this and that.
"But do it and then we will talk about it."
Lennon admitted that Celtic could afford to pay about £6m for a single player but placed doubts on the Scottish champions' ability to match the wages demanded by a top player like Fletcher coming from England's top flight.